Sustainability isn't just about tackling climate change. The UN Sustainable Development Goal 10 is about reducing inequalities. These can be based on the grounds of income, sex, age, disability, sexual orientation, race, class, ethnicity, religion and opportunity.
By Sally Chan. The presentation was co-presented with former MA Advertising and Design student Agnes Meakin.
As educators, we need to be mindful of injustices and stereotypes that may persist within the classroom. These unpleasant experiences serve to hamper societal progression and economic development. The advertising industry, on the one hand, is keen to promote its commitment to diversity and inclusion as evidenced by the myriad of publications at the Incorporated Society of British Advertisers (ISBA) – the Voice of British Advertisers - on the subject matter. On the other hand, recruitment and inclusive practices at creative agencies fall short of these goals with the under-represented saying they plan to leave the industry in droves.
As part of the University's Student Success in Taught Student Education Conference themed around 'Where are we now?' on 8th November 2022, I shared my experience of tackling diversity and inclusion as part of a piece of coursework that was introduced to MA Advertising and Marketing students. Entitled 'Providing a voice to the under-represented: understanding diversity and LGBTQIA+ perceptions at LUBS', the presentation was a collaboration with former MA Advertising and Design student Agnes Meakin.
What was the coursework about? At the beginning of the module, I invited ad planner extraordinaire John Griffiths – formerly of Collett Dickenson Pearce and FCB - to speak to students. John was part of a group of creative planners who revolutionalised early advertising in Britain. At the end of his illustrious introduction to British advertising, one student asked the contentious question of how they could gain a foothold in the competitive field of advertising. His answer? Focus on diversity and inclusion. This advice kickstarted a chain of events for us -rather than a standard brand brief for the coursework, students were tasked with the challenge of devising an inclusive message to demonstrate an agency's commitment to diversity and inclusion.
To prepare students, I extended my lecture on ethical advertising from one to two weeks where we addressed visual representation from all angles (age, minority ethnic, class, disability to gender). I then introduced historical examples of advertising from the History of Advertising Trust to encourage contextualising of British history, for example. This was challenging to say the least – how should one broach the subject of colonial hegemony in advertising to the uninitiated / disinterested? Although my research on racialized representations in advertising helped, not everyone felt comfortable with the topic matter and it was my responsibility to seek out as much information about the underrepresented groups as possible. Guest speakers provided an extra layer of support.
Some of the debates included what terminologies could / should be used (we decided to replace BAME with minority ethnic for those looking at race, for example), and what the industry should be communicating. After what seemed like a lifetime of reflection and sharing of lived experience, I am pleased to say that my students will now: question every representation they see in a piece of (historical) advertising; seek out contextual influences at play; and the confidence to articulate their views.

The conversations did not stop in the classroom. Agnes Meakin approached me shortly after the course had ended. Keen to provide a voice for students who felt underrepresented, Agnes wanted to raise awareness of how masculinity and femininity may exist outside of a binary concept.
Our goal was to inform inclusive strategies that will help facilitate every student's sense of belonging at the University. I am pleased to say that the opportunity to openly discuss issues and, more importantly, to ask questions and share experiences has enriched us all at the conference.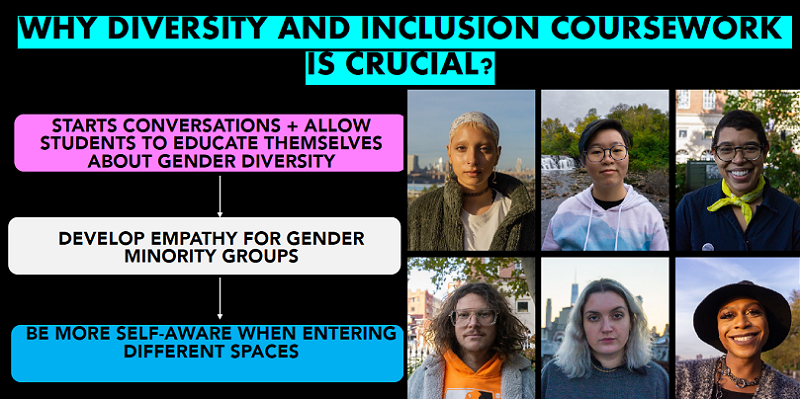 Agnes should have the last word:
It's incredibly emotional and overwhelming to tell my story and speak up for a group of people who have tolerated silence for too long. I really think this will help give teachers a framework on how to approach new students who have a varied gender expression.