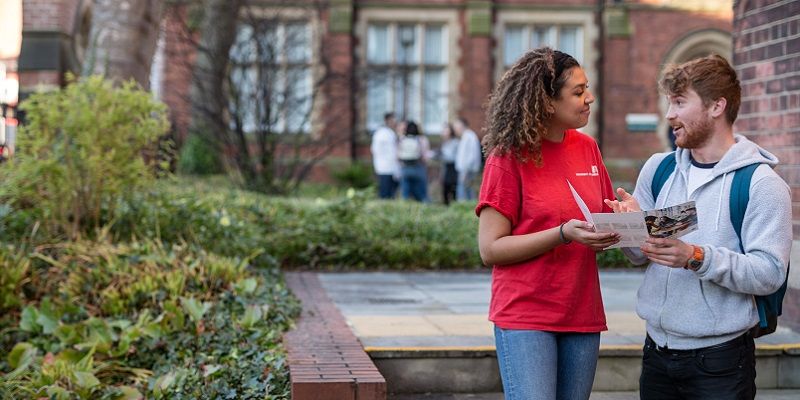 We have a wide range of support services available on Open Day.
Disabled access
Campus is generally accessible for people with mobility difficulties. When you arrive, look for the signs for the 'North South Access Route'. This is an accessible route around campus. The route begins at the main entrance of the University — near the Parkinson steps — and ends at the Worsley building. It's marked by signs and involves the use of lifts at some points. You can also ask a student ambassador in a red t-shirt for help navigating campus.
You can also get course information from subject drop-in sessions. Most drop-in sessions are located in accessible venues.
You can use our interactive campus map to view locations of:
routes across campus (use the walks/routes tab)
disabled access to buildings (use the facilities tab)
disabled toilets (use the facilities tab).
You can find these tabs at the bottom of the map.
The map may not be suitable for users of assistive technology. To request an accessible format, please contact webcomms@leeds.ac.uk. Please tell us what format you need and what assistive technology you use.
Accessible information and on the day support
We can provide Open Day information in alternative formats such as braille or large print.
For on-the-day support please contact opendays@leeds.ac.uk at least two weeks before the event. Please note, we cannot guarantee this support if you make a request after the deadline.
For more information about alternative formats or support, please contact the Open Day team by emailing opendays@leeds.ac.uk.
Parking for blue badge holders
We have limited spaces reserved for disabled visitors. If you are a blue badge holder and need parking, please include this on your booking form or email opendays@leeds.ac.uk.
To guarantee blue badge parking on open day, you must submit your request more than 48 hours before an event. For any enquiries about blue badge parking, please email opendays@leeds.ac.uk
Dog spending pens
If you are visiting campus with a guide dog you can find the location of our dog spending pens on our accessible facilities on campus page.
Disability support during your studies
Find out about disability support we can provide during your studies.