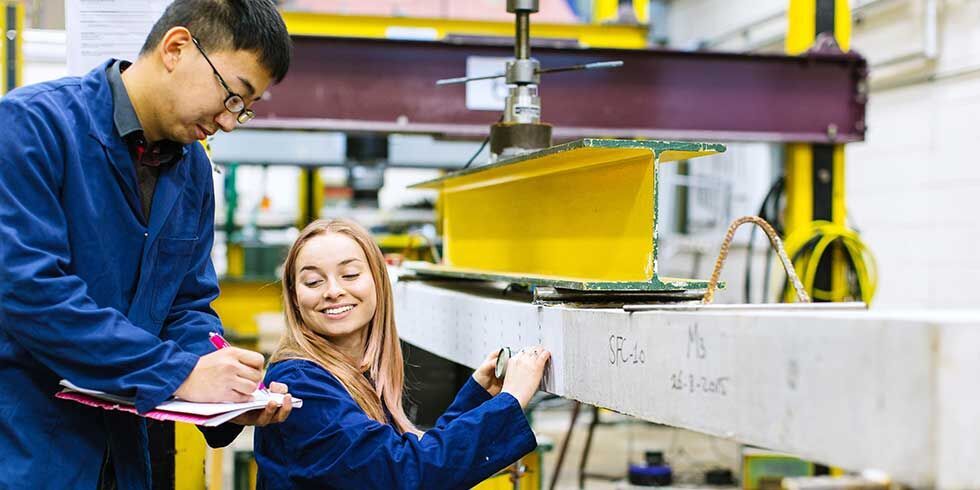 Bring new ideas, different skills and innovative thinkers into your business.
We're one of the top five most targeted universities by graduate employers (High Fliers Research: The Graduate Market in 2022).
We have more than 39,000 students from more than 130 countries and a vast alumni network who can bring creativity and unique insights to benefit your company.
We can help you recruit graduates, run internships and raise your company profile, working with your business needs and available resources.
Advertising an opportunity
To advertise your opportunities to our students and alumni, register on MyCareer to post on our vacancies board for free. It's a quick and easy way for you to promote new roles and attract potential candidates.
We also provide a premium service for employers looking to make a bigger impact and build their brand awareness. Using targeted emails, student newsletters and social media, we can maximise the number of students that you reach so you can find the right people for your organisation.
To find out more about advertising and our premium service, email the Employer team at employerteam@leeds.ac.uk.
All opportunities advertised on MyCareer need to comply with our vacancy advertising policy.
Careers fairs and events
Every year, we host more than 1,000 local, national and international employers and organisations on our campus and virtually.
Make your business stand out to students and graduates who are looking for roles – we offer a range of opportunities including careers fairs, employer-led workshops, presentations, podcasts, insight days and much more.
To find out more and to register for our events, email the Employer team at employerteam@leeds.ac.uk.
Internships and placement years
Do you have a project on hold because no one has time to work on it? Do you want to develop an area of your business but aren't sure it needs a permanent member of staff? Work experience may be the ideal solution as our students can bring additional expertise, fresh perspectives and extra capacity to a project.
If you want to offer a paid year-long, part-time or summer internship, you can take advantage of our free recruitment service. We'll manage all advertising and promotion, shortlisting and interview scheduling, as well as helping you develop projects and job descriptions. We can also provide advice around the logistics of recruiting interns and how to target the best students for your internships.
SMEs, charities and third sector organisations can also benefit from subsidies to support an internship. Please email the Employer team at employerteam@leeds.ac.uk for more information about internships and placement years.
As a start-up business we were able to offer a range of projects and experiences. Interns contributed to marketing, social media work, provided extra capacity on many projects and their energy was contagious. Very positive.
Volunteering
Our students are passionate about making a positive difference in their local community with thousands volunteering each year. Students bring their knowledge, skills and personal experience as well as lots of energy and enthusiasm to their volunteer work.
We work in partnership with third-sector organisations in Leeds and the surrounding area, connecting our students with volunteering opportunities for the benefit of everyone. If you're a UK-based charity, we can offer you additional support to advertise your volunteering opportunities to our students.
Whether you've already got a role in mind or you'd simply like to talk to us to find out more, email the Volunteering team at volunteer@leeds.ac.uk.
Student volunteers bring energy and expertise to everything they do. We learn from them as much as they learn from us and we couldn't be more grateful!