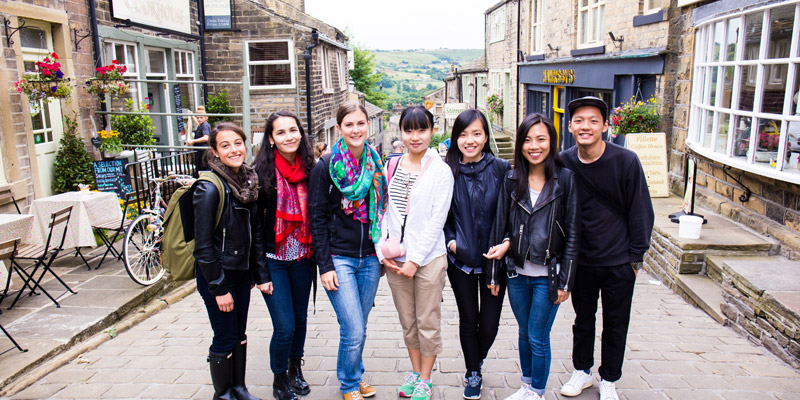 Choose a block 2 module

British Literature and the Brontës
During the 1840s and 50s the Brontë sisters wrote some of the most original and challenging fiction of the Victorian period. Their work is still popular and still inspires criticism, fiction, popular culture, and film adaptations. This module provides an introduction to British Literature with a focus on well-known authors, including the Brontës. The module also includes British authors such as Elizabeth Gaskell, Oscar Wilde and the Pre-Raphaelite poets. You will read a range of texts by these authors and explore these writings in class. You will take part in group discussions and a workshop on writing a critical commentary. You must read the novel Jane Eyre by Charlotte Brontë and the play The Importance of Being Earnest by Oscar Wilde before the start of the summer school. Charlotte, Emily, and Anne Brontë lived at Haworth Parsonage, only a few miles from Leeds. You will usually visit the stunning Yorkshire village that was their home during the module.
"The Bronte parsonage was amazing. Being able to stand where Charlotte Brontë would have stood, and see her home was absolutely lovely."
Read the full description of British Literature and the Brontës in the module catalogue
Comedy, Performance and British Culture
Have you ever wondered how jokes work, why so many people find cats funny, or whether humour has the power to bring about political change? This module is about asking big, serious questions about the things people laugh at. It will provide an introduction to some classic theories of humour, including those of Sigmund Freud, Henri Bergson and Mikhail Bakhtin, as well as some more recent feminist responses to these theories. You will watch extracts of comedy performance, including examples from stand-up comedy, television sit-com, satirical cabaret, and devised theatre. You will take part in group discussion and a practical workshop on joke writing. Comedy has long been considered an important part of British cultural life. But how have recent political upheavals changed the way people respond to jokes, and the people that tell them? And how is the internet affecting the way comedy is performed in everyday life? A trip usually to watch live comedy will give students the opportunity to reflect on these timely questions.
"I enjoyed every moment in the Comedy course, especially the visit to the music hall and the comedy store. The module leader introduced us to so much British culture and local things. This was really helpful and interesting!"
Read the full description of Comedy, Performance and British Culture in the module catalogue
Data Mining and Text Analytics
Big data is becoming more and more important in fields from science to marketing, engineering, medicine and government. This module introduces the principles of data mining and text analytics. You will apply these principles in practical exercises with a data mining toolkit and real data. You will compare a range of different techniques and algorithms and evaluate their performance.
The module introduces:
data mining inputs and outputs, instances, attributes, classes, concepts
machine learning and data mining with the WEKA toolkit
real-world data-sets and competitions with Kaggle.com
CRISP-DM Cross Industry Standard Process for Data Mining
evaluation of data mining and text analytics results
text classification
text search and information retrieval
You will take part in practical team work as part of a data mining and text analytics challenge. You are not expected to have previous expertise in data mining but you should be familiar with using and creating data files. For example, Word documents, Excel spreadsheets, PowerPoint presentations, YouTube videos, Wikipedia web-pages, Twitter/Facebook or other social media data. Please note you are expected to use your own laptop for this module. Before the summer school, you must have set up user accounts at kaggle.com and a video streaming site eg YouTube. You will also need to download the free WEKA data mining toolkit from the WEKA open-access website. The module usually includes a field trip to the National Science and Media Museum.
"My first time trying a totally different subject which was challenging and interesting. Data mining will be helpful for my postgraduate study in the future."
Read the full description of Data Mining and Text Analytics in the module catalogue
Education in the Media
How are live debates within the English education system portrayed in the media? What is distinctive about the English education system? How do English schools and universities compare to those in other countries? This module looks at current issues within the field of education, through the prism of accounts in the media. You will look at the facts behind the newspaper stories which have captured the public's attention. What is the real difference between private schools and the state sector? How does England compare on the world stage in international tests such as PISA and TIMMS and why does it matter? You will consider these questions and also explore topics such as the mental health crisis amongst English school pupils. You will learn about accountability measures, such as Progress 8 and SATS. You will examine how accountability affects the curriculum offered in schools. The module also looks at why there is still a divide between vocational and academic education. You will have the opportunity to analyse the legacy of the tripartite system introduced after the Second World War. Finally you will explore some of the most recent situations which have led teachers to take action in street protests and even strikes.
Read the full description of Education in the Media in the module catalogue
Entrepreneurship and Society: Ideas, Opportunities and Value Creation
Entrepreneurship plays an important role in society. Across the world micro, small and medium enterprises are providing the livelihoods for millions. Corporates with their large employee base are also responding to calls to be more socially responsible. Increasingly we are seeing the emergence of new 'for-purpose' business forms. They seek to create social and environmental value as well as the more traditional economic benefits. These enterprises are creative in addressing acute social needs. They may leverage social innovation to build business models and products. There are a myriad of social and environmental challenges within society. These challenges, especially those framed by sustainable development goals, offer opportunities. In particular for new business start-ups, as well as the emergence of more responsible corporate forms such as B-Corps. This module explores various types of for-purpose businesses such as social enterprises. For example, B-Corps, Fairtrade and Hybrids. You will also consider some of the key founders that have shaped these businesses and the emergence of new ideas as microfinance. The module also considers how traditional corporates can be more socially responsible.
"The course is well structured and well designed, and the activities helped me to gain a lot of hands-on experience, which will be helpful for my career."
Read the full description of Entrepreneurship and Society in the module catalogue
Equity Portfolio Management
The main focus of this module is to give students the opportunity to experience practical application of financial and investment theory. This involves an introduction to the use of the Bloomberg Terminal in a dedicated Bloomberg Trading Room. The module provides an introduction to basic financial and investment concepts. This will allow you to explore the Quantitative Equity Investing approach. You will gain an understanding of a basic theoretical framework that will enable you to develop an investment strategy. You will work together in small groups to develop an equity investment strategy. You will create an equity portfolio on the Bloomberg Terminal using real-market historical equity data. Bloomberg currently sits on the desks of more than 320,000 business professionals worldwide. It is considered to be one of the leading global information providers. According to the New York Times, "Bloomberg is the web that weaves together much of the global financial ecosystem". Hence, learning to use Bloomberg is a great opportunity for students wishing to pursuit a career in business or finance. You can learn today the technology that you are going to use in your future jobs tomorrow.
Read the full description of Equity Portfolio Management in the module catalogue
Essentials of the Music Business
The music business today represents innovation, creativity, opportunities and connectivity. It is a global business that facilitates interpersonal, intercultural, and international interaction. This module provides an introduction to the music business environment. You will explore key concepts used in categorising and analysing music business sectors, industries and organisational typologies. You will be presented with a selection of relevant case studies and take part in class debates and discussions. You will develop an understanding of how general business concepts apply to the context of the music business, exploring the contemporary challenges the industry is facing. This module usually includes a field trip to a music or entertainment venue. Topics include:
Live music business organisations
The role of record labels
Streaming services
The music publishing business
Ethics for Business and Society
Have you ever wondered how morality influences decision making in business and society? How free access health services decide between the cost of medicine, versus life-altering benefits? Or how a charity, overwhelmed by need decides who to help first? This module will provide an introduction to ethics.
You will consider real world decision making and ethical challenges faced by businesses and society. Ethical theory will include consequentialist theories such as utilitarianism and deontological theories such as Kantian ethics. You will also consider virtue theory. You will develop practical skills in decision making and learn how to apply ethical theories to real life case studies in businesses.
This will include a range of sectors including law, engineering, the charity sector and healthcare. Upon completion of the module you will be able to critically evaluate ethical theories. You will be able to apply these theories with particular reference to real-life business case studies.
"I enjoyed communicating with students from all over the world, and cooperating with them to finish group tasks and discussions."
Read the full description of Ethics for Business and Society in the module catalogue
Global Challenges in the Anthropocene: Health, Food Security and Climate Change
We have now entered a new geological epoch defined as the Anthropocene. During the 20th century, humanity has transformed the geology, biosphere and atmosphere of planet Earth. Given these momentous developments, we are now confronting a range of challenges which are truly global in scale. How is the global governance system coping with these challenges? Which mechanisms, dynamics and solutions exist to confront these challenges? What are the difficulties and dilemmas in confronting these challenges? This module will explore these questions and consider global challenges facing society. You will have the opportunity to study infectious diseases and epidemics. In the twenty-first century, global epidemics have become ever more frequent. You will also examine challenges around agricultural production and climate change. The global food system has turned into the main driver of environmental degradation. This is due to its industrialised production methods and global commodity chains. Increasing CO2 emissions have put further stress on our ecosystems. Not to mention the breath-taking loss of the last few rainforests. You will gain an understanding of how all these challenges defy key notions of the international system. How they reconfigure our understanding of borders. And how they reshape international, transnational and global political dynamics. The module usually includes a field trip to Saltaire Village, a UNESCO World Heritage Site.
Read the full description of Global Challenges in the Anthropocene in the module catalogue
Introduction to Digital Photography
Are you interested in digital photography and making photographic images? Do you want to develop your practical digital camera skills? This module will give you an understanding of how a digital camera works and how to interpret and evaluate photographic images. You will also learn how to compose a photographic image and how to expose a photograph correctly. You will gain critical insight through the study of existing photographic images and the work of key photographers. You will explore concepts and techniques such as the self-portrait, landscapes, exposure, the evocation of atmosphere, promotional photography, artificial lighting, experimental photography and contemporary issues surrounding the field of photography. As you progress your digital photography skills you will produce a portfolio of your own images. Please note you are expected to use your own digital camera for this module. This module usually includes a field trip to Fountains Abbey.
"This has been a newfound hobby of mine and this module established a suitable base for me to build my skills. The assessment allowed me to tap into my creativity."
Read the full description of Introduction to Digital Photography in the module catalogue
Introduction to Psychology: Perception, Cognition and Emotion
Why do we do the things we do? Are we in control of our behaviour, or is the mind subject to influences we cannot control? How does the mind influence our behaviour, our reactions to our environment and the people we meet, and even how we perceive art? This module analyses how human behaviour has evolved and explores what makes us both human and fallible. It also considers our perceptions of, and reactions to, art from a psychological perspective. You will also gain an understanding of how our mind can play tricks on us, for better and for worse. You will discover how developmental and social factors influence our behaviour. You will explore core topics in psychology including neuroscience, perception, learning and memory, motivation and emotion, and social, developmental and abnormal psychology. The module usually includes a field trip to The Hepworth Wakefield and the Yorkshire Sculpture Park. This trip will allow you to consider the psychology of art, how we perceive and interpret what we see and how art can influence our emotions.
"The lectures were amazing and interesting and I really enjoyed the group presentation. It not only helped to learn a lot of information about the topic but it also helped me to make great friends. We really enjoyed the in-class seminars and the discussions we had."
Read the full description of Introduction to Psychology in the module catalogue

Physiology and Microbiology in Action: Exploring Respiratory Health
Are you interested in microbiology and the causes of infectious disease? Do you want to explore human physiology and gain skills in biomedical sciences? This module will introduce you to how lungs work, how infectious disease disrupts lung function, and what can be done about it.
Through a mixture of classes, practical work and field trips you will develop your understanding of lung function. You will examine the differences between viruses and bacteria and explore techniques for investigating respiratory function. For the practical laboratory sessions you will have access to state of the art facilities in the Faculty of Biological Sciences.
You will gain practical scientific skills and have the opportunity to measure your own lung function. You will also investigate how bacteria and their drug sensitivities are identified. The module usually includes visits to a hospital microbiology laboratory, the Faculty Electron Microscopy facility and the Thackray Medical Museum.
"I found the lectures to be very interesting and I was excited to come to class every day. I really enjoyed the tour of diagnostic medicine and understanding how the entire process works. I really loved learning about potential careers."
Read the full description of Physiology and Microbiology in the module catalogue

Sport, Nutrition and Outdoor Education

What role does physical activity play in our society? How does nutrition affect sport and health? Why is outdoor education important to the physical activity agenda? And why does all this matter? This module considers these questions and contemporary issues in sport, exercise and health. The benefits of sport and physical activity are well established. There are positive links to cardiorespiratory and bone health as well as social and psychological welfare. Yet, there are still relatively few individuals meeting recommended levels of activity. This module considers issues such as these from both a scientific and practical perspective. You will consider diet and nutrition and their relationship to sport, health and activity. You will explore the contribution that outdoor education makes to the physical activity agenda. This will involve taking part in practical activities and developing your leadership skills. You will have the opportunity to take part in outdoor-based activities such as hiking, abseiling and orienteering. The beautiful landscape and scenery of Yorkshire provides some of the best locations in the UK for outdoor activities.
"I enjoyed the diversity within the module. The content was taught in a student-friendly way and the field trips made it possible to get an even better insight."
Read the full description of Sport, Nutrition and Outdoor Education in the module catalogue