Yorkshire Sculpture International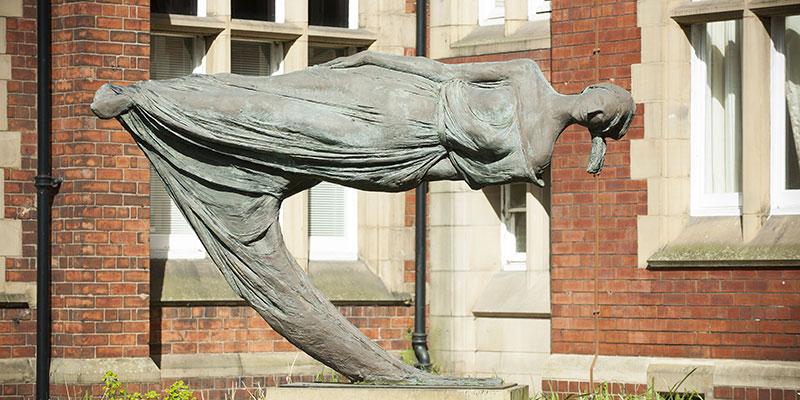 We have partnered with Yorkshire Sculpture International – a 100 day festival of sculpture. We have a shared ambition to support talent development and student engagement through public events and professional skills development activities.
Launching in 2019, Yorkshire Sculpture International is the UK's largest sculpture festival. In its first year, a series of exhibitions, international commissions, events and learning programmes celebrated sculpture across four galleries: the Henry Moore Institute, Leeds Art Gallery, The Hepworth Wakefield, Yorkshire Sculpture Park as well as outdoors in Leeds and Wakefield.
Yorkshire Sculpture International is a fantastic and ambitious opportunity to build on our strong tradition of partnership with all four of the great Yorkshire arts institutions involved.
The University hosted a series of talks and events exploring a range of topics from materials engineering in sculpture to gender and cultural identity.
We also welcomed a new artwork to campus, the specially-commissioned Converse Column by internationally renowned British-American artist Liliane Lijn, in connection with our innovation hub, Nexus.
Student opportunities
Curators from the Yorkshire Sculpture International programme delivered guest-lectures for students including a two-day insight into curating.
Seven students from our MA programmes took placements with Yorkshire Sculpture International as part of their course. They worked in curatorial, engagement, evaluation and marketing areas with the Yorkshire Sculpture International team and across the different institutions participating.
Two more students undertook a three month paid internship to help deliver events, work with volunteers and evaluate the Yorkshire Sculpture International programme. The roles allowed the students to explore their own interests, working directly with artists and curators.
The partnership has also offered training for student ambassadors to assist with cultural events, improving skills and opportunities.
Read our spotlight article: Yorkshire Sculpture International takes shape on campus.