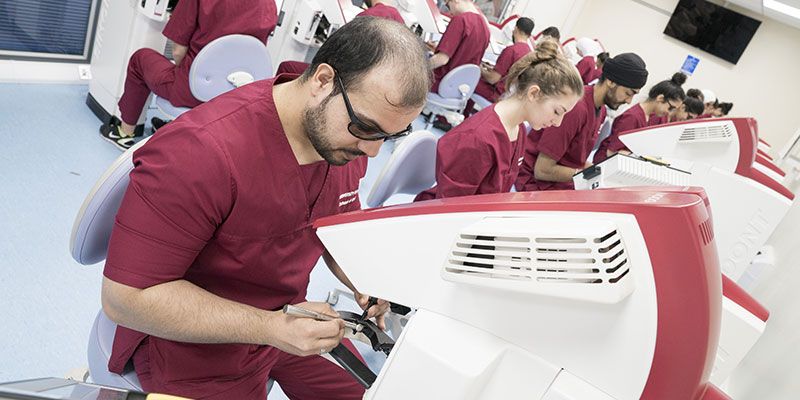 Enabling people to explore and learn in virtual environments can increase efficiency, innovation and safety. Our academics are continually testing and evaluating the latest innovations to see how immersive technologies could improve learning.
We've worked at different stages of education, from primary school children through to our own medical students. We are pioneering approaches which complement real experiences and enable the learner to practise key skills using virtual reality.
Our educational technology programmes include:
Providing student doctors with a front row seat in the operating theatre. Our virtual reality training programme gives medical students access to resources on medical procedures which would not normally be available them.
Allowing dental care trainees to practise on virtual cases. Our dental simulation programme is the largest of its kind in the UK. Our simulators use hand held instruments which recreate the sense of touch, a vital component of learning to treat patients.
Helping geographers develop fieldwork and mapping skills. Our award-winning Virtual Landscapes Project, which incorporates an advanced 3D development platform, populates a virtual landscape with different geological features.
Working with one of the world's largest longitudinal research projects, Born in Bradford, to track the development of 13,500 children to study the causes of childhood illness. We are using immersive cognitive and motor assessment tools and virtual reality learning materials to support our work.
Developing a new virtual reality tool to give prospective students a taste of life as a healthcare professional. The project, which has received funding from the Office for Students, aims to identify those with the right qualities to become professionals in the field, helping to address staff shortages.
Our systematic approach, coupled with our expertise in artificial intelligence and data analytics, means we are well placed to play a leading role in bringing virtual reality and immersive technologies into training and education.
Born in Bradford Data Immersive Visualisation
This 360° video prototype takes advantage of the unique linked datasets from the Born in Bradford project, one of the world's largest longitudinal research studies, to demonstrate the power for virtual reality in large scale data visualisation. Use your mouse or touch screen to move around the video.
Video transcript: Born In Bradford Data Immersive Visualisation.