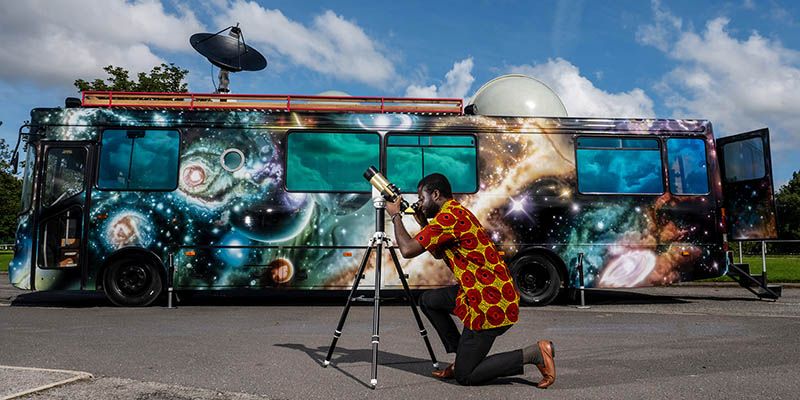 The University of Leeds' collaboration with LEEDS 2023 has established valuable participatory approaches in research, student education and outreach work. As we enter autumn and the final stage of this year-long cultural extravaganza, we evaluate the partnership so far and look towards how we continue to be a valuable local partner in the future cultural wealth of our region.
From Moon Palace – a bus converted into a mobile space observatory – to generating AI artwork in a marginalised community in India, the university's partnership with LEEDS 2023 has created a wealth of research and engagement opportunities both locally and internationally and demonstrates the power of collaboration for value within and beyond our city.
Abigail Scott Paul, Director of External Relations at LEEDS 2023, says:
"The University of Leeds has been an incredible supporter and champion of LEEDS 2023 from the beginning of our journey. Working together, we have unlocked opportunities for children and young people from across the city. We have benefited from the university's expertise in projects like Moon Palace … and there has been a brilliant engagement from their student population."
For the Public Good
From the outset, co-creation has been a strategic element of LEEDS 2023. The University's Cultural Institute and Horizons Institute, together with the British Council and LEEDS 2023, brought together researchers, artists, and communities to promote climate justice in an experimental project, For the Public Good (FTPG).
This project paired five Leeds academics with international artists, to explore different ways to respond to climate change and justice. This eight-week online research project included 'Speculative Visions' led by Kanchan Joneja (Off Centre Collective, New Delhi) and Dr Viktoria Spaiser (School of Politics and International Studies). The collaboration investigated creating AI-generated artworks to imagine a brighter and more sustainable future for an Indian community disproportionately affected by climate change. In another pairing, Wanjiru Koinange, writer and restorer of libraries from Kenya collaborated with Dr Diane Morgan (Fine Art, History of Art and Cultural Studies) to explore development of an online library for climate change and climate action, designed to appeal to diverse audiences.
In a second phase of the project, the University's Sustainability Service has joined the collaboration to develop one of these ideas into a Living Lab; the first of its kind at University of Leeds. Queering Climate Change (QCC), led by Dr Martin Zebracki (Geography) and Patrick Miller (based at The Gaming Hub ZW, Zimbabwe), explores the use of VR in the critical exploration of climate change, pursuing practices and solutions that are inclusive of sexual and gender minorities. QCC will also engage with local LGBTQ+ community and allies in Leeds via LGBTQ+ Soc, bringing them in dialogue with the LGBTQ+ community in Harare; a great example of how external partnerships can promote more internal collaborations across the institution.
Researching cultural value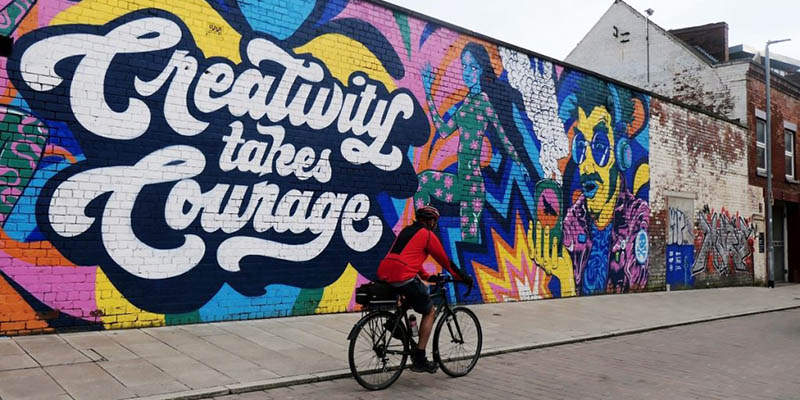 Based at the University of Leeds, the Centre for Cultural Value (CCV) is collaborating with the Horizons Institute and The Audience Agency to lead the research into LEEDS 2023 and articulate the value of the year of culture for communities, artists, audiences and the region as a whole.
This collaboration chimes with the University's mission to harness our expertise for the greater good. It has also generated an abundance of ideas and opportunities for academics and students to engage with culture in all its different shades, forms and concepts.
Ben Walmsley, Director at the Centre for Cultural Value and Dean of Cultural Engagement at the University, says:
"The Centre is leading research that uses creative, participatory methods to develop a robust, people-centred understanding of the programme's impact. These insights can support legacy planning within Leeds and across the city region and inform future cultural programmes, such as Bradford 2025."
"Hanging out" in the arts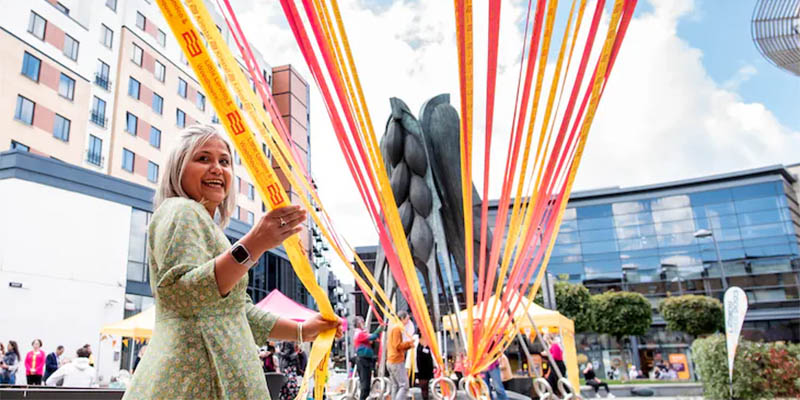 One example of this research approach is the innovative methodology being used to deepen understanding of the My Leeds 2023 Neighbourhood Hosts, a community-based project working with residents across Leeds to explore their stories and culture.
Funded by Horizons Institute and attached to CCV, sonic artist and postdoctoral research fellow Alex De Little is undertaking a longitudinal evaluation of the programme. By "hanging out" with LEEDS 2023 project participants, he is exploring different co-creation processes, compiling case studies and recommendations and assessing what these might mean for LEEDS 2023's legacy and what they may imply for future cities of culture.
Alex de Little says this approach:
"…encourages the development of a longer-term more honest relationship between co-researchers, and it prioritises feelings, beliefs, emotions, processes and experience."
Other research strands led by the Centre for Cultural Value included Research Associate John Wrights' work on looking at whether artist-led activities have helped support and diversify the cultural ecosystems in Leeds, and if and how artists will continue to engage with residents and communities. Meanwhile, PhD candidate Ava Podgorski is investigating how researchers can most effectively evaluate the social impact of cultural participation, using "listening labs" to capture the legacy of the programme as a case study.

In addition, Robyn Dowlen conducted a series of interviews with older performers and audience members who took part in the 1001 Stories takeover at Leeds Playhouse by the Performance Ensemble – with findings celebrated the importance of storytelling and creativity in later life, as well as noting impacts on older people's sense of connection to others and self-reported wellbeing through creative participation.
These approaches, alongside CCV's wider work, are fast positioning the Centre as a hub of expertise for critically understanding the role and impact of cities of culture more broadly across the country.
Read Deep hanging out in the arts: an anthropological approach to capturing cultural value (PDF) by Ben Walmsley.
Opening up student participation
The rich programme of community and partner programme events in LEEDS 2023 has created new opportunities for students to immerse themselves in the real world, through volunteering and industry placements. Currently, 195 students are working in voluntary roles, and 40 students have found industry placements.
Niamh Byrne, Head of Placements and Student Opportunity at LEEDS 2023, says:
"LEEDS 2023 isn't just about putting on extraordinary events and creative and cultural experiences across the year. It's also about having a long-term impact on the city and utilising this unique opportunity to build awareness of the creative industries and support budding creatives."
Abbie (BA Theatre and Performance, Year in Industry), says: "I have found the placement… to be an incredible insight into the culture sector as a whole…I have learnt so much already about the processes that need to happen in order to launch our projects."
Richard (Politics and Social Policy, Year in Industry): "The most beneficial part of my placement at LEEDS 2023 is the people I've met. Whether that is inside or outside the organisation, it's been invaluable expanding my network."
Celebrating the art of civil engineering
Students and staff from the School of Physics and Astronomy have also helped develop the Moon Palace, a bus transformed into a working observatory and sculpture by East Leeds Project. The Moon Palace will also arrive on campus on 21 November, when University audiences can enjoy the experience for themselves.
Moon Palace is part of a larger city-wide programme, Smeaton 300, that will continue beyond 2023 and where the University's Cultural Institute is a principal partner. As Erica Ramsay, Project Manager at the Cultural Institute explains:
"We're delighted to be working on one of Leeds 2023's signature events, Smeaton300. This is a national creative events programme that takes inspiration from the groundbreaking work of the UK's first civil engineer, Leeds-born John Smeaton, curating a series of engaging events for the public timed to celebrate the 300th anniversary of his birth.
In 2024 the University will be delivering a series of curated engaging and research-inspired cultural events led by Cultural Producers on campus, and in partnership with the School of Civil Engineering. Rooted in the University's commitment to civic engagement, researchers, students, and University of Leeds Staff, as well as the public, will have the opportunity to engage with the programme throughout the year."
Impacting future decision making
Horizons Institute has worked with LEEDS 2023 to open a dialogue between the researchers, artists, and communities they are working with. The focus is on how co-creation might impact future decision-making processes in the city, including policymaking, beyond 2023.
Inés Soria-Donlan, Horizons Institute Research Manager for Creativity, Partnership and Impact and Joint Acting Head of Interdisciplinary Research, says:
"Both interdisciplinary and participatory approaches are about working better, with others, often through unlikely collaborations, to generate new understanding and innovative ideas. Just as with participation, when done well, interdisciplinary research inherently requires us to think of representation, inclusion, voice and hierarchical structures."
In addition, the Centre for Cultural Value is working with Leeds City Council and West Yorkshire Combined Authority to support the legacy implementation of the year long programme. This will help place the research and evaluation of LEEDS 2023 at the heart of the region's ongoing cultural strategy. Building on this, CCV is also engaging with the Department for Culture, Media and Sport (DCMS) and the Arts and Humanities Research Council (AHRC) on future funding and research for the wider UK Cities of Culture programme.
Creating new routes to cultural growth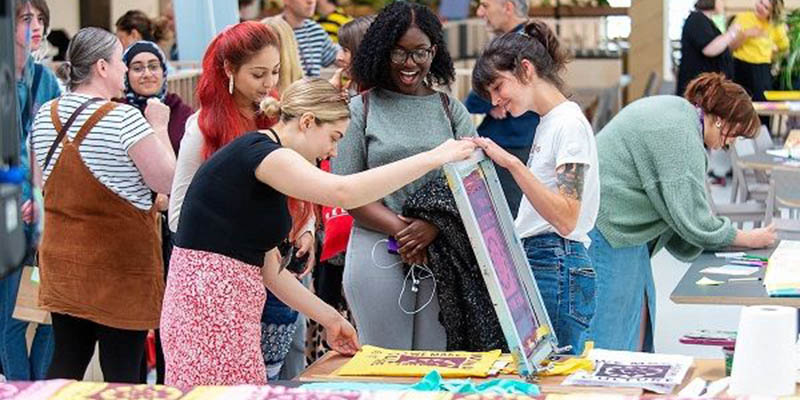 Another key partnership this year is P.L.A.Y (Participation, Learning and Arts for Youth), a year-long arts activity programme led by LEEDS 2023 in partnership with the University's Cultural Institute and supported by Arts Council England. Researchers, arts managers and cultural creatives looked at possible research collaborations and opportunities for children and young people to engage with culture beyond LEEDS 2023.
Over the course of this year, LEEDS 2023 has "transformed the perception of culture in Leeds and made us think and feel differently about the city we know" (Councillor Jonathon Pryor). As part of this city-wide transformation, the University of Leeds' partnership with LEEDS 2023 has provided new pathways for academic research and student participation and helped the university to become recognised as a civic voice in the region.
As Abigail Scott Paul outlines:
"It is clear the University of Leeds are committed to breaking down barriers to participation to arts and culture, boosting skills, retaining talent in the region and supporting us to Let Culture Loose right across the city in 2023 - we are truly grateful for their support."
As a rich tapestry of cultural opportunities for the region continues to evolve, and with another city of culture, Bradford 2025, on our doorstep, new opportunities are arising for academic-cultural collaborations. These partnerships support regional growth and increase understanding of the cultural landscape around us: for the benefit of universities, the creative sector and our local communities.