Poet Laureate and Professor of Poetry, Simon Armitage has urged Leeds to 'wake up' to its creative potential in a song penned for the city's festival of culture.
Thousands of people gathered at Headingley Stadium to celebrate the beginning of LEEDS 2023, a year packed with events to highlight the city's culture. The spectacular show featured a performance by Professor Armitage alongside a range of creative talents from across Yorkshire, including carnival dancers, roller skaters and Leeds alum Corinne Bailey Rae.
Leeds is staging its own year of cultural celebrations after Brexit meant UK cities were no longer eligible to win the title of European Capital of Culture. The festival is being delivered by the independent charity, Leeds Culture Trust, in collaboration with the University of Leeds as a principal higher education partner.
'Wake up, Leeds'
Simon Armitage who is a Professor of Poetry in Leeds' School of English, took to the stage with bandmates from LYR, a musical trio made up of Armitage, singer-songwriter Richard Walters and multi-instrumentalist and producer Patrick Pearson. The song, which blended spoken word poetry with music, was a moving wake-up call to the creativity within Leeds communities.
Wake up, Leeds,

you've got gold in your veins,

you've got silver bones,

you've got diamonds for brains,

you've got neon souls.
Professor Armitage, who is also a patron of LEEDS 2023, said: "I think the event at Headingley Stadium on Saturday night was everything it promised to be: a festival atmosphere, a community feel but with global ambitions, celebratory, shimmering Yorkshire rain through pin-point lasers - a spectacular happening."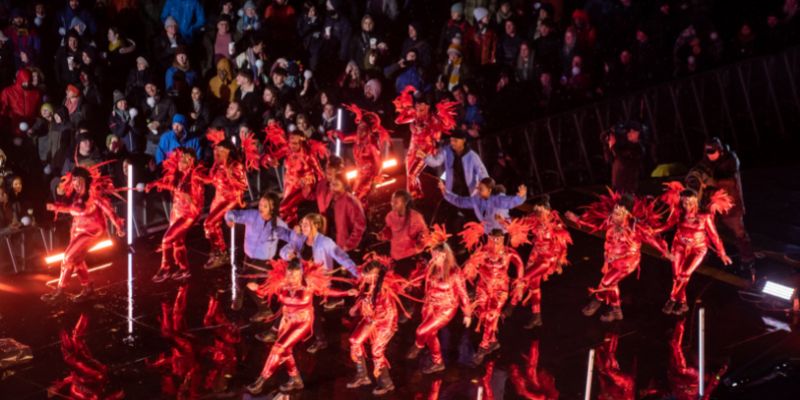 Professor Armitage added: "The band I'm part of, LYR, had been commissioned to write a new song to play at the show. 'Awakening' takes the mythological brick giant of Holbeck and makes it a totem for some kind of artistic and imaginative uprising, inviting the people of the city and its environs to see their surroundings and live their lives through the lens of the arts - dance, film, song, literature, painting, whatever.
"It was very emotional on stage - we all wore a white rose as an emblem of alliance, and delivered the song into what felt like a cauldron of collective pride and good will.
"Something emotional - that's what we wanted to deliver - a song that avoided the musical pitfalls and poetic cliches of an anthem, but had chords and a chorus that might be thought of as thematic - of the night and the year to come."
The year ahead
The partnership with LEEDS 2023 is being developed and led by the University's Cultural Institute, which brokers and nurtures collaborations between the arts and culture sectors, creative industry sectors, academics and students.
The University of Leeds is also involved in a long-term collaborative project to realise the vision of Professor Armitage, to establish the UK's National Poetry Centre in Leeds, including a programme building towards the new centre as part of the LEEDS 2023 artistic series of events and activities.
It was announced last year that Arts Council England had awarded the Cultural Institute £788,000 to fund its PLAY (Participation, Learning & Arts for Youth) creative education scheme as part of LEEDS 2023. The project is set to engage more than 68,000 participants over the 12 months, reflecting Leeds' diverse communities and moving towards establishing a funded creative education across the city.
The University's Horizons Institute and Cultural Institute are working with LEEDS 2023 on For the Public Good, a collaborative programme that will see five academics at Leeds paired with artists based internationally, aiming to increase engagement with climate justice through technology.
Horizons Institute has also worked on My World, My City, My Neighbourhood, which will commission 23 artists to experiment with ideas and ways of working post-COVID to enrich the creative voice within the heart of Leeds communities.
The Cultural Institute and cultural producers will be working on a programme of cultural events on campus in 2023. Further information on this will be available soon.
Further information
Top image: LEEDS 2023; second image: JMA photography.
For more information, email University of Leeds External Communications and Campaigns Officer Mia Saunders at m.saunders@leeds.ac.uk.