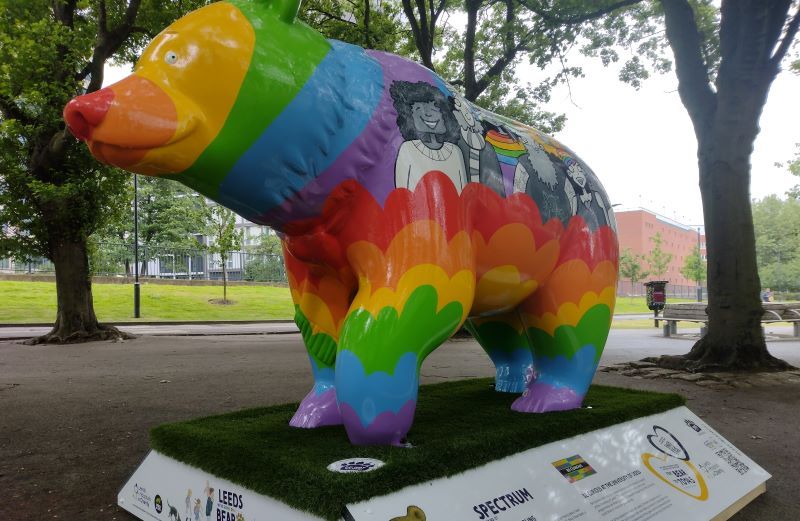 We have a visitor here at the University of Leeds – and Spectrum the bear can't wait to meet the people of Leeds this summer.
Spectrum is part of the Leeds Bear Hunt art trail, which features 35 dazzling bear sculptures and 50 bear cub pieces of art around the city of Leeds and its surrounding parks.
The event, which runs until 9 September, is raising money to help Leeds Children's Hospital give the best possible care to critically ill babies, children and young people.
People are invited to discover all the statues inspired by children's author Michael Rosen's book 'We're Going on a Bear Hunt' over the coming weeks. Later this year, all 35 sculptures will go under the hammer to raise the funds.
Each bear has been uniquely designed by a local or national artist or a member of the local community. The University of Leeds' bear Spectrum was decorated by local illustrator Christine Jopling with all the colours of the rainbow which reflect the diversity and inclusivity of the Leeds community and our gratitude to the NHS.
Visitors are invited to Be Curious and find out what else happens at the University of Leeds.
Professor Nick Plant, Deputy Vice-Chancellor: Research and Innovation at Leeds, said: "The funds raised by the Leeds Bear Hunt will help ensure the Leeds Children's Hospital and its staff can continue to tackle health inequalities by transforming healthcare for children and young people.
"We are proud of our strong partnership with Leeds Teaching Hospitals NHS Trust and look forward to continuing our collaborative work to deliver the best health and care outcomes for every child in the region."
Dr Alexa Ruppertsberg, Head of Public Engagement with Research at Leeds, said: "We welcome people to find Spectrum and invite everyone to explore the many other free and accessible activities on our campus such as our galleries, exhibitions and beautiful gardens.
"The Leeds Bear Hunt showcases so many talented artists' work, provides fun for the family and, at the same time, raises money for such a good cause."
Joanna Parker, PR and Digital Executive at Leeds Hospitals Charity, said: "The University of Leeds is such a big part of the city's culture and the Be Curious team is already intertwined with Leeds Children's Hospital through their research. This collaboration seemed fitting in so many ways and will bring awareness for Be Curious throughout the trail.
"The Bear Hunt is about helping those in our community who need it the most in a way that is fun and enjoyable."
Further information
The bears were developed in partnership with Wild in Art and Walker Productions/Lupus films.
For further information email the University of Leeds Press Office via pressoffice@leeds.ac.uk