As National Student Volunteering Week kicks off this week, the University is celebrating the impact student volunteers have on local, national and international communities.
More than 3,500 University of Leeds students volunteer with charities, local services and schemes every year, contributing to the life of the city and enhancing their skills and enjoyment of their time at Leeds.
The University works closely with Leeds University Union (LUU) and its clubs and societies to offer students these opportunities. This week LUU is showcasing opportunities for students through its Student Volunteering Week.
Among the University's initiatives, Students into Schools promotes outreach activity to raise aspiration in the region's schools, giving the equivalent of 443 weeks of classroom support every year.
"University is about so much more than academic life."
Professor Tom Ward, Deputy Vice-Chancellor: Student Education, said: "University is about so much more than academic life. The University of Leeds and Leeds University Union are committed to developing independent, critical thinkers who make a difference to their local community and to the wider world.
"Our strong emphasis on extra-curricular activities, such as those found through volunteering, is a key part of the exceptional student experience we offer.
"We know through results from the National Student Survey and the Times Higher Education Student Experience Survey that students very much value their time at Leeds, and we are all very proud to be a part of this fantastic city."
Lauren Huxley, Activities Officer, Leeds University Union said:
"Leeds University Union offers a fantastic and rewarding range of volunteering opportunities through its clubs and societies, including working with children, conservation, supporting refugees and asylum seekers, and so much more.
"We have 16 dedicated volunteering societies who do brilliant work to have a positive impact during their time at Uni.
"You can gain so much by giving a little bit of your time."
"Volunteering is a fantastic way to break out of the student bubble and give back to our community which I'd encourage all our students to do - you can gain so much by giving a little bit of your time."
Writing Back
Jingyi Chen is studying for an MA in International Communication. She met Leeds resident Jo Milton (both pictured, top) through the Writing Back scheme, set up by Dr Georgina Binnie from the School of English, which matches up students and older people in Leeds as pen pals.
"Writing Back gives me an appreciation of the city outside the campus."
"Listening to stories, through writing letters to Jo, helps me to better understand the culture here," said Jingyi, from Guangdong province in China.
"It gives me an appreciation of the city outside the campus and I love hearing about Jo's life and travels.
"There's something so special and personal about receiving a letter," said Jo. "I love the connection between different generations that Writing Back brings.
"I think for both of us it makes the city feel like a smaller place."
A musical impact in the community
People In Action is a local charity that supports people with learning disabilities and autism.
Second year Music student Rory Heron discovered the charity through the University Union's Volunteering Fair in his first year and now works as a support worker with service users Callum Kemp and Joe Pemberton (pictured below, from left to right), and volunteers with the charity alongside his studies.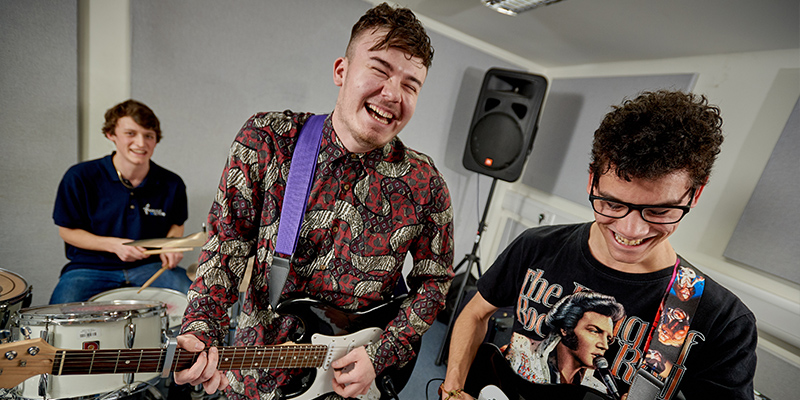 "I was eager to make a difference in the Leeds community during my time at university," said Rory.
"I started working with Joe to help him get a band together and now we've got Callum we all rehearse at the School of Music and do gigs. We call ourselves The Vipers!"
With LUU's Music Impact in the Community group (LUUMIC), Rory has also set up the Sunday Band Project, which brings together students and People In Action service users to play music.
Joe, who plays guitar, drums and bass, said: "I love playing in the band and in gigs. Rory is great to work with."
Rory added: "These activities allow everyone involved to explore their creativity, create friendships and build their confidence and social skills."
"I was eager to make a difference in the Leeds community during my time at university."
Sophia Omarji (pictured above) is a second year Music and Psychology student who also volunteers with LUUMIC. The group collaborates with organisations to spark social interaction through music and music therapy, building confidence and communication skills
Sophia said: "I have worked with all sorts of people, including children and adults with learning disabilities and physical disabilities, refugees, and dementia patients.
"I am a singer, but in our sessions we use a combination of singing with basic percussion instruments and ukuleles to enhance the experience of those we work with.
"Volunteering is a great way to meet new people and make friends. I'm aiming to be a full-time music therapist and this is great experience.
"Music psychology is a new discipline and we're finding out more about the way the brain works, how it influences musical development and how people learn to play instruments. It's great to have that background knowledge to support what you're doing outside your studies."
Community First Responders
James Nicholson is a fourth-year Medicine student who has worked with Yorkshire Ambulance Service (YAS) to set up Leeds Medical Student Community First Responders, a group of medical student volunteers which provides immediate and potentially life-saving care to seriously ill patients in their community during the vital minutes before an ambulance arrives.
"Through volunteering we interact with our wider local community and support people across the city."
Trained by and working with YAS, the Community First Responders have contributed 7,800 hours of volunteers' time, not including training time.
"Through volunteering we interact with our wider local community and support people across the city," said James.
"We see patients who are very unwell and provide them with reassurance in the minutes before the ambulance arrives.
"I love working as part of the wider team; so much so in fact that I want to stay in Leeds after I graduate."
Dave Jones, a Community Defibrillation Officer for YAS (pictured above with James), said: "The student volunteers provide a fantastic service.
"Working together we can make a real difference to patient care. They have supported the care of many patients in our local community and gained a unique experience that will no doubt make them better doctors of the future."
Leeds graduates
Leeds graduates also play a vital role in the volunteering life of the University across the world, offering internships, careers guidance and networking opportunities.
Further information
Students can find out more about volunteering opportunities here.
Others wishing to offer volunteering opportunities or student placements should email Josephine Hargreaves on J.Hargreaves@leeds.ac.uk.