Talking about

Digital innovation and research
As the global population grows, so does the demand for food and water – increasing the need for agricultural practices that produce more from less. The farmers and agribusinesses tasked with improving efficiency and productivity do so in the face of political and social pressure, unpredictable trading patterns, and climate change.
Today's digitally-enabled world presents significant opportunities to meet these challenges, transforming a sector grounded in thousands of years of farming practice. To support this step change, UK Government initiatives include research and development funding through Defra's Farming Innovation Programme, along with grants to help farmers invest in new technologies and techniques.
Pioneering high-efficiency agriculture requires collaboration. Multidisciplinary researchers and commercial agricultural practitioners must work together on projects that carefully consider the complex and interconnected relationships between agriculture, the environment, society and our economy.
A smart farm connected to the entire food system
To meet this need, the University of Leeds Global Food and Environment Institute is transforming its 317-hectare commercial arable and livestock farm into a digitally-enabled test bed for transformative agricultural innovations.
The University's smart farm incorporates advanced monitoring and sensing technologies, either fixed or attached to drones and robotic crawlers, that monitor a range of conditions across the farm in real time. The sensor outputs, in combination with genomics data, imaging and machine learning, deliver high-quality evidence to help find solutions for a smarter and sustainable future for farming.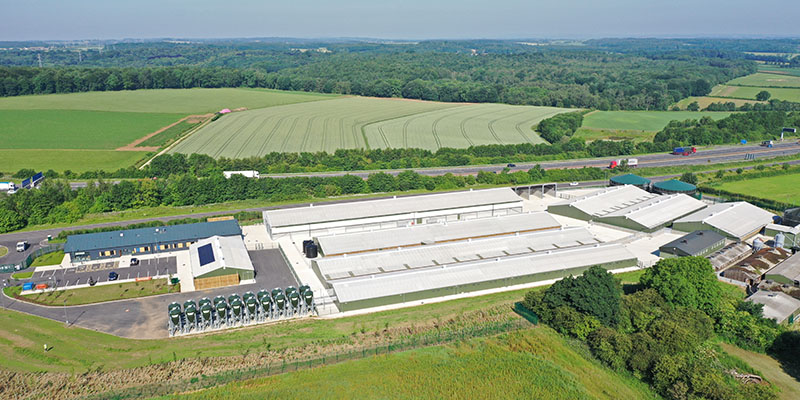 "While other research farms might just look at individual aspects of farming like slurry management, our smart farm's digital monitoring innovations mean our researchers can focus on the whole process of the farm. This cleverly creates links between what we might do with crops in the field, with nutrition, soil health and the farm energy profile," explains Dr Gesa Reiss, Smart Agri-Systems Senior Innovation Fellow in the University's Global Food and Environment Institute.
This multi-systems approach, made possible through the farm's vast array of sensors and multidisciplinary partnerships, means the University's smart farm can be used to deliver data-driven solutions across the whole food system – from the farm, through the supply chain, to the consumer.
Innovations to guide decision making
The farm is home to the Centre for Innovation in Excellence in Livestock's National Pig Centre, an £11m investment with digitally connected indoor and outdoor research facilities.
"The digital instrumentation we have incorporated into the Pig Centre means we can zone in on an individual pig and follow its development from birth through its entire life course," says Dr Reiss. "We can look at things like food intake, weight gain, and welfare indicators, with data transferred from all our different sensors onto one digital platform. This data is really precious for our researchers, farm managers and for retailers and consumers."
For farmers, it means they can understand what kind of system grows the pig the quickest, the healthiest and in the least stressful way possible.
With the pig industry heavily impacted by feed prices, and consumer pressure for high-welfare meat, insights such as these can help farmers to maintain the welfare of their livestock while growing their business.
Recently established in 2019, the smart farm research team plan to apply their multi-systems approach to the full range of challenges faced by the agri-food sector. These include farming decision tools that reduce the risk of crop failure in erratic weather, tracing the carbon footprint of individual food items to inform purchasing decisions, and delivering innovations towards net zero and regenerative agriculture.
Digitally-enabled cross-sector collaborations
The smart farm has recently joined the UK Space Agency-funded GreenSpace collaboration, with Space Hub Yorkshire, in a bid to understand how earth observation technologies can be linked with data from farm-based sensors to improve soil health. The project hopes to deliver evidence that will de-risk financial investments in biodiversity.
"Through the GreenSpace project, we will pilot how farmers might use our smart farm's sensors to reduce the hands-on aspect of verifying the ecological state of their farm," explains Dr Reiss, who hopes to offer a PhD studentship through the collaboration.
"It should provide evidence for how such digital technologies can be used with ease so they can be adopted widely. This is an exciting collaboration which involves University of Leeds colleagues from across the disciplines including finance, computing and space technology, linked with community partners and Yorkshire's space and technology sectors. That's a lot of expertise that we are bringing together to apply to farming!"
More information