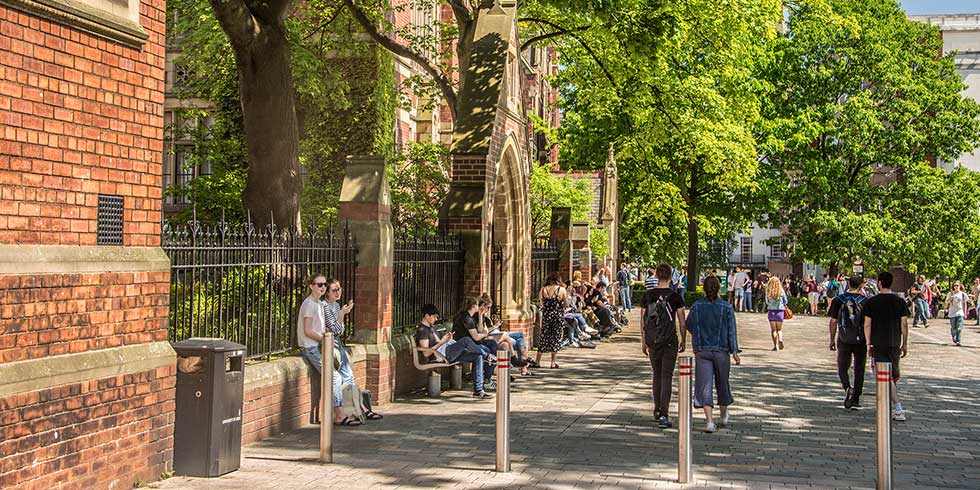 The best way to find out more about what Leeds is like is to visit us. Every year we welcome thousands of students at open days, on campus tours and applicant visit days. These are a great way to explore our campus and sample University life.
Download our self-guided tour to make the most of your visit. For travel information take a look at our campus map and see our find us page.
Campus tours
From April, student-led campus tours are available most Wednesdays. Booking opens four weeks before each tour.
Our tours are a great way to get a feel for the campus and to meet some current students. The tours feature the following:
Depending on when you visit you might be able to see your academic department, but you'll need to contact them in advance to arrange an appointment. During term time departments are not always able to accommodate visitors due to teaching commitments.
International campus tours
If you are an EU or overseas fee paying student, you can book an international campus tour. Guided by current students, you will see the International Student Office, the Brotherton Library and our sports centre.
If you would like to view one of our halls of residence, contact the International Office after you have booked your tour. It may not be possible to visit our accommodation during term time if the halls are occupied.
For further information contact the International Office.
Open days
Our next open days will be on 19 and 20 June 2020. Find out more on our open days site.
If you are interested in Masters study or a research degree you can attend a postgraduate open day or one of our other postgraduate events.
Accommodation viewing day
Our next accommodation viewing day is 9am–5pm on Saturday 21 March 2020.
It's a free, informal event designed for undergraduates who hold an offer from us. It provides the chance to look around our residences, to help you decide where you'd like to live during your first year of study.
There's no need to book or sign up. Residences will be open from 9.30am–5pm and you're free to come and go as you please.
Independent visits
If you're unable to make a guided campus tour or you would rather explore the campus on your own, you can arrange an independent visit. You can visit at any time - but remember that University buildings are not normally open at weekends. If there is a particular academic department you'd like to see you should contact the department directly beforehand to avoid disappointment. Download our self-guided tour.
If you have already applied
If you have an offer for a place at Leeds you can arrange a visit by contacting the admissions team through your chosen faculty or school website. For our undergraduate courses you will be invited to either an interview or post-application event, usually between January and March. Please check your offer pack for more information.