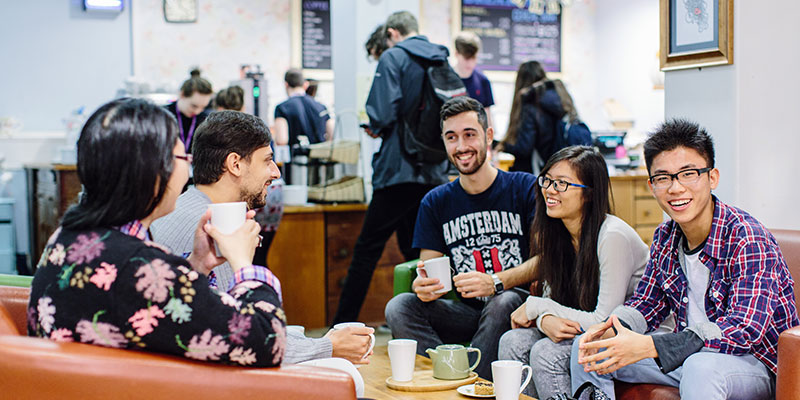 We look forward to welcoming you to the Language Centre and the University of Leeds. Below you'll find our step-by-step preparation and arrival guide.
Applying for accommodation

You can apply to stay in University accommodation during your pre-sessional English course. Living in University residences makes it easy for your to meet other students. Alternatively, we can help you find private accommodation in Leeds.
Travelling to Leeds

Our nearest airports are Leeds Bradford Airport (a 30 minute taxi ride away) and Manchester Airport (one and a half hours by direct train). Find out more to help you plan your journey to Leeds.
What to bring

Check our advice on essential documents, money and what to pack in your hand luggage and larger bags.
Ask a current student

What's it really like to be a student at Leeds? Our team of Link to Leeds ambassadors will be happy to answer your questions. You can read about Haruka's experience, who started her studies at Leeds with a pre-sessional course.
Arriving at your accommodation

There are taxi ranks at all arrival points in Leeds for the journey to your accommodation. Bring your accommodation address, money for your taxi fare and the University Security 24-hour phone number, +44 (0)113 343 5494, in case you need it. Check in advance how and when you can collect your key, move into your accommodation and what do to if you arrive outside normal opening hours.
If you have any questions about accommodation arrangements, visit our accommodation website, email accom@leeds.ac.uk or call +44 (0)113 343 777.
Your first days in Leeds

In July and August, our friendly Welcome Team will help you settle in, get to know Leeds and the campus and meet other students. You'll find them in the University residences on arrival weekend and at the Student Services Centre from Monday to Friday in the first week. They'll also be with you throughout your pre-sessional course to answer your questions, host social activities and support in classes.
At other times of the year the Language Centre and International Student Office teams offer help to settle into University life.
Police registration

You might need to register with the police when you arrive. This depends on your nationality and how long you'll be staying in the UK for. Find out more about registering with the police.
Opening a bank account

It can take a few weeks to open a UK bank account. Plan to use an alternative to cash, such as a credit card, while you're waiting for your bank account to open. Don't bring large amounts of money with you in cash. Find out more about opening a UK bank account.
Registering with a doctor

You should register with a UK doctor when you arrive in Leeds. If your visa is for less than six months, you'll need to pay for some medical services, so take out medical insurance before you travel to the UK.
Find out more about your health entitlements and registering with a doctor.
Disability support

Our Disability Services provide specialist support for disabled students, including students with physical disabilities, mental health conditions, autism spectrum condition, specific learning needs (eg dyslexia) and long-term medical conditions.
Check our services to see if you might benefit.
We encourage you to contact us as early as possible before you come to Leeds. Email langc@leeds.ac.uk and fill in the Disability Services support form. This will help us arrange any support you might need in your first few days and during your course. The information you give us will be treated confidentially and won't affect your offer.
Further information
There's lots more information to help you feel at home in Leeds and make the most of your time here.
If you have any further questions, email us on langc@leeds.ac.uk.