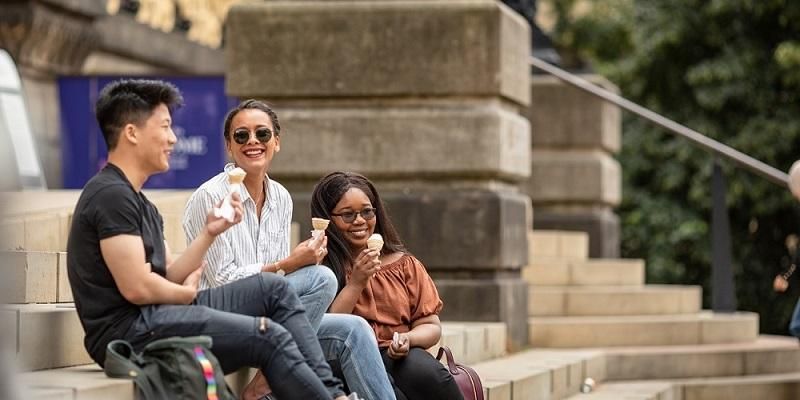 Leeds is a welcoming city for international students and University staff and home to lots of different nationalities and communities.
It's one of the most multicultural cities in the UK, and has more than 85 languages spoken (UK Census 2011).
Because it's quite a compact city, you can get around easily, but it's big enough to offer plenty of things to do in the city centre and the surrounding area.
There's a large student population and many different sport, religious, community and social groups, where you can meet new people.
We're sure you'll soon be calling Leeds home.
I've loved living in Leeds. It's such an easy place to get around, everything is walkable, the public transportation is really good, and it's also a very safe city.
Talk to a student
Our Link to Leeds student ambassadors can help answer your questions about Leeds. As current international students at the University, they are able to share their experiences of living and studying here.
Faith
As a multicultural city, Leeds is home to people of many faiths. You'll find places of worship across the city as well as other people who share your beliefs.
The University Chaplaincy has representatives from different faiths, who can help you find a local place to worship. They also welcome everyone for a friendly chat, whether you follow a religion or not.
Leeds University Union also offers a number of faith societies, where you can meet other people of the same faith.
Finding a place of worship was important to me, for spiritual and social reasons. But I didn't need to worry. There are lots of different faith groups around the city and on campus.
Living in Leeds
There's accommodation to suit all lifestyles and budgets – from city centre apartments to shared houses and family homes. If you're moving from another country to work at the University, check out Relocate Leeds.
If you're coming to Leeds as a student, there is University of Leeds accommodation and high quality private accommodation.
Whether you prefer living on campus, in the heart of the city or in a local, student-friendly neighbourhood, there will be a great place for you.
Get free, independent advice from:
International food shopping
Finding international food and ingredients in Leeds is easy. There are several specialist Asian and other international supermarkets in the city centre and most regular supermarkets sell world food. You'll also find shops and restaurants selling kosher and halal food.
Historic Kirkgate market in the city centre is one of the largest covered markets in Europe. It sells fresh vegetables, fruit, spices and food from all over the world. There's an Asian Bazaar every Wednesday morning and a farmers' market on the first and third Sunday of the month. Famous British chain store Marks & Spencer began here in 1884, as a market stall where everything cost one penny!