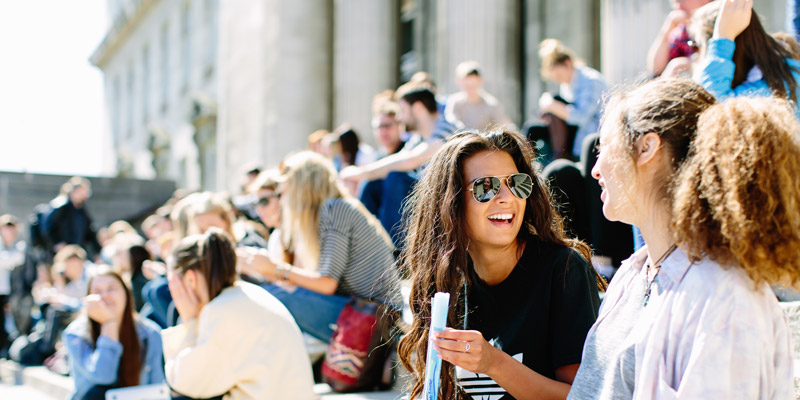 We can support you to feel at home and make the most of your time in Leeds. We will provide you with guidance before you arrive and while you are studying.
You can find information on this site on how to apply for the correct visa. You can also find adivce on planning your travel, what you need to bring and information on arriving in the UK. If you have questions about immigration advice or preparing for Leeds you can contact our International Student Office.
Our welcome team and International Student Office can help you get started when you arrive in Leeds and can offer support to you all year round. There are many places on campus to ask for help if you have a question, along with services to support you during your studies. You can get information from our website for current students on all the support on offer.
Our Your Arrival booklet for all new international students includes a step-by-step guide to help you in your first few weeks and beyond. You will find information about the country, the city and the University. This will be in your welcome pack, along with maps and other booklets.
Living and working in the UK
Our website for current students has lots of useful information and advice about living in the UK, including culture shock, opportunities to get involved, and health advice.
You might want to work during your studies. There's some information you'll need to know, such as how to find a job, understanding tax and national insurance and work restrictions. Find out more about working during, or after, study
International families
If you are planning to bring your family with you to Leeds we have information about suitable accommodation, schools and facilities and support for students or partners who are pregnant. You can spend some time investigating and planning before you arrive.
Disabled international students
We provide support for disabled students to make the most of their time at Leeds. If you have a disability you should let us know as soon as possible by completing our disability form. Please be assured that this information will not prejudice your application.
You can also access support before term-time starts. This will allow you to take part in our international welcome and orientation activities when you first arrive.
If your funding does not cover this, apply to our Disabled Student's Access Fund as early as possible. The fund can be used for help to access things such as:
shops
the bank
the doctor
participating in social activities