Becky Cherriman, Teaching Fellow in Professional Studies
Email Becky Cherriman via b.a.cherriman@leeds.ac.uk
Phone Becky Cherriman: 0113 343 3212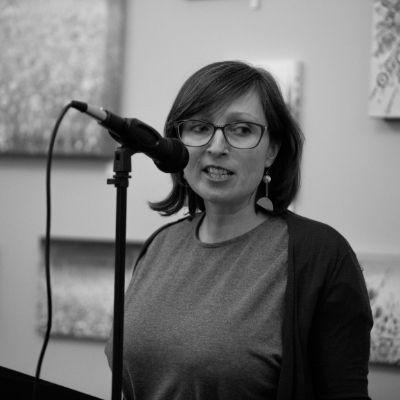 Areas of expertise
Creative writing, poetry, performance, community arts and education.
My role
I am a part-time Teaching Fellow on the LLC Professional Studies BA and a part-time freelance writer and performer. My responsibilities include co-leading and teaching on the Creative Writing pathway and leading the Using Stories to Develop Learning module.
I returned to education in 1998 to undertake a BA in English at the University of Leeds. After graduation, I attended a writer development programme and trained in community arts, specialising in Creative Writing and completing a PGCE in Adult Education. Between 2003-2018 I worked full-time as a freelance writer, performer and workshop facilitator, roles which I now undertake part-time. The focus of my workshops is interdisciplinary, crossing arts, creative writing, health and education.
My writing has featured as libretto, in film, audio and on umbrellas displayed above a market square. More traditional publishers include Seren, Mslexia and Bloodaxe. I have had poems named in competitions including the Wirral Poetry Prize, the Ilkley Literature Festival Open Mic, the Bridport Prize, the Women's Poetry Prize and the Forward Prize. My poetry pamphlet Echolocation and collection Empires of Clay were launched in 2016. Commissioned projects enable me to write with and for specific communities, including in collaborative theatre. I also write fiction.
In 2018, The Lifelong Learning Centre employed me as a Creative Writing Community Development Officer for their Communities and Partnerships team. I became a teaching fellow in Professional Studies in 2019, bringing what I learned as a freelance workshop leader and writer into my current role.
My teaching practice is informed by the experience that writing and the spoken word can help us to make sense of the world and our place in it and provide us with tools to transform our lives. For me lifelong learning is about being open to others and to the new. It is about being creative, always questioning and thinking how we can add to and learn from the vast body of knowledge around us.
Research interests
My research tends to be practice-based, qualitative and inter-disciplinary. Its nature depends on the creative project I am pursuing. Research areas include the history and culture of umbrellas; connections between mental health and respiratory problems and woodland areas; history of a mining town in west Yorkshire and its inhabitants; radical suffragism in Morley and Leeds; homelessness and the hauntology of spa towns; and Liverpool Football Club.
Qualifications
English (BA)
PGCE in Adult Education
Professional memberships
NAWE
Society of Authors
The Poetry Society
ALCS
Student education
Tutor for Using Stories to Develop Learning, Creative Writing Workshop 1 and Advanced Creative Writing Project
Co-leader of the Lifelong Learning Centre's Creative Writing Pathway
Social media and websites
Visit Becky Cherriman's website
Follow Becky Cherriman on Facebook
Follow Becky Cherriman on Twitter
Visit Becky Cherriman's YouTube channel