Dr Stephen Maw, Programme Leader Studies in Science
Email: s.j.maw@leeds.ac.uk
Phone: 0113 343 5845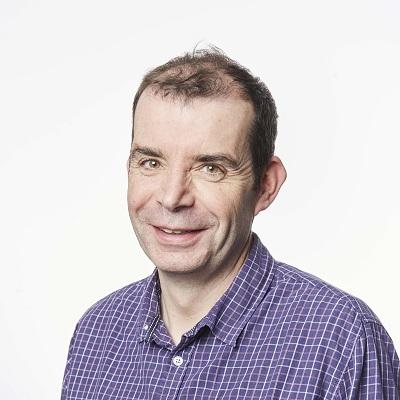 Educational background
I gained a BA (hons) from the University of Oxford before completing an MSc in Sustainable Agriculture at the University of Aberdeen and then my PhD in Food Science.
Professional experience
On gaining my PhD I moved to the University of Leeds where I worked as a Teaching Fellow. For the next 10 years I was Academic Advisor for the Higher Education Academy Subject Centre for Bioscience. Here I designed and delivered research into key aspects of bioscience teaching practice, acted as project consultant to national projects and co-managed a project grant scheme. Additionally I was Editor-in-Chief for Bioscience Education – an international, peer-reviewed journal disseminating research, good practice and innovation in tertiary-level teaching.
In 2012 I joined the Lifelong Learning Centre and moved into module and programme design for foundation years. In 2015 I won the University Partnerships Best Feedback Award. From 2014 until April 2019 I successfully co-led the Science Foundation Years. My current interests revolve around investigating and helping introverts to navigate an education system that seems designed for extraverts. My areas of expertise include: foundation year teaching, student transition and support, and curriculum design.
Qualifications
PGCLTHE
PhD Agriculture/Food Science, The Robert Gordon University, Aberdeen
MSc Sustainable Agriculture, University of Aberdeen
BA(Hons) Chemistry, University of Oxford
Professional memberships
Fellow of the Higher Education Academy
Member of Foundation Year Network
Research Publications
Maw, S.J., Mauchline, A. and Park, J.R (2011) Biological fieldwork provision in Higher Education, Bioscience Education 17-1
Maw, S.J. and Orsmond, P. (2011) Assessment, Feedback and Review. In Effective Learning in the Life Sciences: how students can reach their full potential, ed Adams, D
Orsmond, P., Gomez, S., Crook, A. C., Park, J. R., Drinkwater, R., Lawson, C., Lundqvist, K. O. and Maw., S. J. (2011) Releasing the genie from the bottle: new feedback practices for old. Assessment and Evaluation in Higher Education
Maw, S.J. (2010) Editorial: A Good Spread, Bioscience Education, 15-0
Maw, S.J. (2009) Editorial: The Value Placed on Teaching, Bioscience Education, 14-0