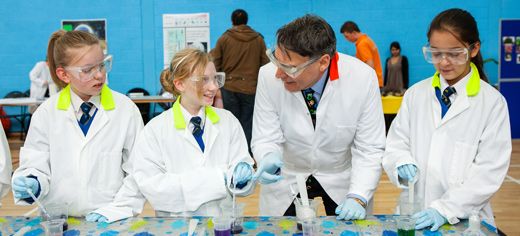 University-led initiatives to help the brightest students enjoy a world class education, regardless of background, received a stamp of approval today.
The University invited the Director of Fair Access to Higher Education, Professor Les Ebdon, to see first-hand how Leeds is helping raise aspirations and encouraging talented students to consider higher education.
The visit provided the opportunity to showcase the range of initiatives Leeds has in place to support students, including school outreach and student talent spotting programmes, through to flexible admission policies, foundation level programmes, generous scholarships and student support networks.
Professor Ebdon said: "Everyone with the potential to benefit from higher education should have an equal opportunity to do so regardless of their background. It is always fascinating to see practical examples of the activities carried out by universities seeking to widen access to their courses, and to meet students who have benefited from this work who might otherwise have thought that higher education was not for them. I was pleased to see some of the innovative approaches the University of Leeds is taking to widen access to their courses."
Professor Vivien Jones, Pro-Vice-Chancellor for Student Education, added: "This was also a great chance to show how well Leeds provides ongoing support for students during their time here. All of our work is designed to nurture and develop potential, and above all, recognise excellence, so that talented students have the opportunity to study at a top University."
Professor Ebdon's visit marks a key period of activity in the University's widening participation and outreach agenda, with the access team now engaging with over 1000 schools across the UK and with over 450 current undergraduate students contributing to education outreach activity in local schools and colleges.
During the day, Professor Ebdon met with the Vice Chancellor, Michael Arthur, as well as current students who gained a place on their degree programme through one of the University's widening participation schemes. These schemes, such as Access to Leeds, aim to help students who have little or no experience of higher education, or who may not be able to demonstrate their talents through grades alone.
A visit to the STEM discovery zone in the afternoon - a special programme of science, technology, engineering and maths-based activities aimed at engaging school children - also saw Professor Ebdon taking part in an experiment, as part of the Leeds Festival of Science (pictured).
Professor Ebdon continued: "As a chemist, I was particularly delighted to have visited during the Leeds Festival of Science. Studying science at university opens up a wealth of career opportunities, and it is important that these options are open to everyone with the ability to succeed at these subjects. Through the Festival of Science, the University of Leeds is providing a real opportunity to inspire the engineers and scientists of the future."
Professor Michael Arthur said: "Professor Ebdon offers great testimony to Leeds' commitment to raising aspirations and creating opportunities for the brightest and the best, and this is a huge endorsement for our access and engagement work.
"There are so many talented students who may never even consider higher education an option, or whose studying may have been affected by their personal or economic circumstances, so our scholarships and schemes like Reach for Excellence play a huge role in ensuring young people have the opportunity and skills they need to fulfil their potential and make informed choices about their future."
For further information:
Contact Rachel Barson, Press Officer, University of Leeds, T: +44 113 343 2060 or E: r.barson@leeds.ac.uk
For further details of the University of Leeds' comprehensive range of initiatives to raise the aspirations of young people, visit Access and Community Engagement
The Office for Fair Access (OFFA) is an independent public body that helps safeguard and promote fair access to higher education. For more information about its work, visit OFFA's website