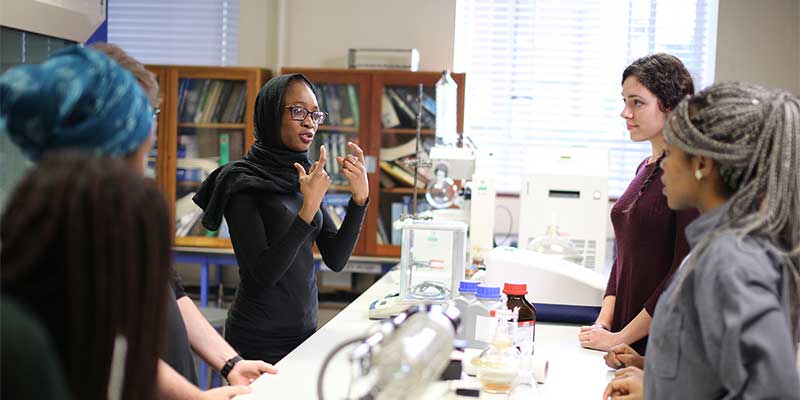 Be inspired to be part of the next generation of highly skilled critical thinkers – shaping the world around you in years to come.
When you choose Leeds you'll study among inspirational academics who are creating knowledge that matters. Some will have even written your textbooks. You'll have their support as you learn and develop throughout your studies.
We're among the top 100 in the QS World University Rankings 2019
You'll benefit from our research power and the funding this brings. We invest in the best facilities and attract teaching staff who are actively engaged in pioneering research. This means you'll study among experts who share your passion for your subject.
Leeds was awarded a Gold rating in the Teaching Excellence Framework, the highest award possible. Our staff have been awarded 26 National Teaching Fellowships, recognising their outstanding impact in the teaching profession. That's more than any other university.
Leeds is a member of the Russell Group of research-intensive universities . We're in the top 100 universities for academic reputation in the QS World University Rankings 2018.
Research-based learning
You'll learn about discoveries as they are happening – sometimes even before they've been published. Whichever subject you choose to study, research will be at the heart of your learning. You'll be close to breakthroughs that are having a real impact in the world.
With our support you will develop your knowledge and skills, as well as becoming a critical and analytical thinker. You'll learn how to define problems and know what questions to ask – skills highly valued by graduate employers.
The University was ranked in the top 10 for research and impact power in the latest Research Excellence Framework (REF), which measures the quality of UK university research.
There are lots of opportunities for you to work alongside our academics and get involved in the research happening on campus. Research placements may be available right from the start of your course and you'll also be able to undertake a research project in your final year, giving you a chance to make your own discoveries.
How will you learn?
Studying at university may be very different from what you've been used to. You'll have our support to guide you through this transition and help you adjust to university life.
In the National Student Survey 2018, 88% of final year Leeds students said they were satisfied or very satisfied with the course - five points above the national average.
Our approach to teaching aims to encourage you to be a confident, independent and self-motivated learner.
Exactly how you are taught will depend on your course, but it will be through a combination of lectures, seminars and tutorials. Time could also be allocated to private study, project work, laboratory practicals and fieldwork.
Discover more
Most of our courses offer discovery modules. They allow you to tailor your study around your interests or career aspirations and stand out from the crowd when you graduate.
Develop your knowledge of a particular subject, or choose something completely new and unrelated to your course. Our discovery modules are grouped into 10 Discovery Themes
Personal tutoring and study support
To help you get the most out of your time at Leeds, from the moment you arrive a personal tutor will support your academic and personal development. Regular and structured meetings will help you not only to do well in your degree, but also to become a more confident, articulate and highly employable graduate.
Explore the opportunities available to you, and record and reflect on all your experiences, through Leeds for Life
You can also benefit from support to develop your academic skills, within the curriculum and through online resources, workshops, one to one appointments and drop-in sessions.