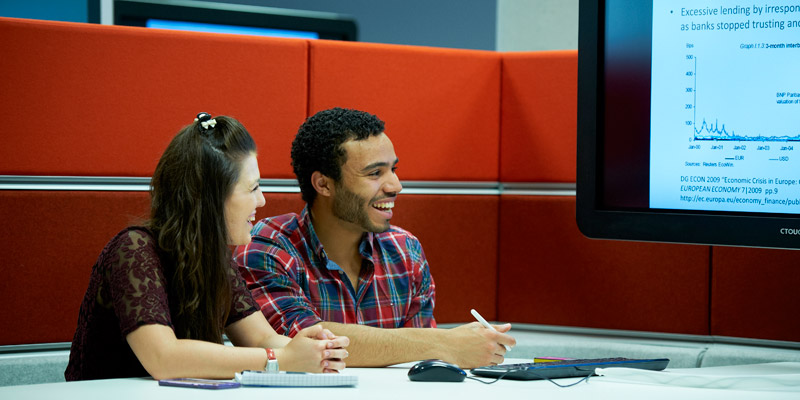 We're continually investing in the best facilities to support you in your studies, from brand new laboratories and lecture theatres to our impressive libraries.
Libraries
Ours is one of the largest research libraries in the country. Our four libraries on the main campus provide a variety of working environments with access to all the books you'll need for your course.
Search@Library provides easy access to online resources including 35,000 e-journals and over 500,000 e-books. You can reserve and renew your books through your library record. If an e-book isn't available, the library digitises key reading for modules through the virtual learning environment.
The new Laidlaw Library, which opened in Spring 2015, has core texts, high tech study facilities with wi-fi and charging points throughout, a dedicated Skills Zone providing academic support and rooms for group work with interactive presentation equipment. Find out more about our libraries
Computers and IT
The National Student Survey consistently ranks us highly for access to IT resources.
A single login will give you access to our two mobile apps and over 1,700 PCs across our cafes and clusters, some of which are open around the clock. Most areas have free, high-speed wi-fi.
As a student here you will get an email account on the Office 365 service, giving you secure access to email, calendar, contacts and tasks, wherever you are. This is part of the Microsoft Office 365 suite of services and allows you to install up to five copies of Office Pro Plus for free. You can also get a range of free or reduced cost software.
Virtual Learning Environment
Our Virtual Learning Environment (VLE) has a range of learning resources and information including personal timetables, reading lists, past examination papers and assessment guidelines, and module information.
It helps you to plan your studies by providing easy access to timetables, announcements and coursework deadlines. It also provides an interactive learning forum through tools including:
tests
blogs
lecture notes
podcasts
surveys
wikis
discussion boards
Our new state-of-the-art lecture capture system enables you to access video and audio recordings of many of your lectures through the VLE, so you can review and revisit content to study at your own pace.
Learning languages
Our specialist Language Centre is a dedicated resource where you can learn a foreign language, improve your English skills or keep up to date with world news. It has:
a dedicated self-access area where you can study independently and access learning materials in over 40 different languages
an extensive collection of foreign-language feature films and documentaries
satellite television over the internet for the study of languages and computer assisted language learning
a dedicated language learning advisor always on hand to help
Our students have free access to the online learning package Rosetta Stone, giving you the opportunity to learn a wide range of languages from beginner to intermediate level. The non credit-bearing courses can be used to supplement taught language modules or can be studied independently of your course.