Music, theatre and festivals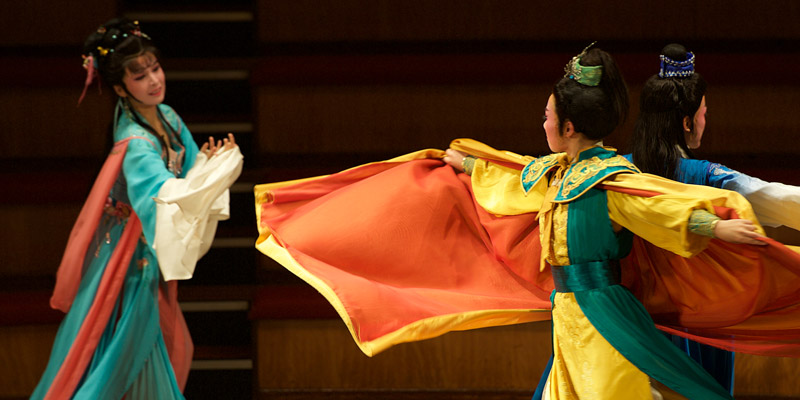 Music on campus
The University has a number of venues on campus hosting live music from a range of genres.
Clothworkers Centenary Concert Hall
Home to instrumental concerts, the Clothworkers Centenary Concert Hall is one venue where you can enjoy performances by the School of Music and visiting performers.
It provides a programme of free Friday lunchtime recitals and occasional 'rush hour' and Sunday afternoon concerts.
The concert programme covers almost every musical genre, from period instrument performances to the avant-garde including European art music, world and popular music, contemporary music and jazz.
Leeds International Piano Competition
The University is a key partner in this truly international event, which takes place in the city every three years.
Previous prize winners across five decades have come from 28 countries. The competition has helped start the careers of some of the world's greatest pianists: artists such as Murray Perahia, Radu Lupu and Dimitri Alexeev launched their careers by taking first prize at 'the Leeds'. Russian 25-year-old Anna Tsybuleva won the top prize at the 2015 event.
The University campus has been a venue since the first competition in 1963, and today the University's Great Hall provides the venue for the first, second and semi-final stages of the competition. Designed by Alfred Waterhouse and part of the Yorkshire College, which pre-dated the University, the Great Hall is one of the finest buildings on the campus.
Find out more on the competition's website
The union and refectory
Since the late 1960s the Refectory has hosted some of the most important acts around, including Led Zeppelin, Bob Marley and the Rolling Stones. Perhaps one of the most famous live recordings ever made, The Who Live at Leeds, was recorded in the Refectory.
More recently, it has played host to the likes of Simian Mobile Disco, Muse and Arctic Monkeys.
The union also has its own nightclub Stylus, and smaller venues playing host to gigs and regular club nights.
Theatres on campus
There are a number of theatres situated on campus which hold regular live performances.
Stage@Leeds
Stage@Leeds is our public licensed theatre complex, dedicated to artist development and supporting new work.
The complex, which can be found in our performance and cultural industries building, includes:
Stage One, a 180-seat auditorium

the Alec Clegg Studio, a 50-seat experimental studio theatre

a dance studio along with all of the facilities associated with a public licensed venue including dressing rooms, box office and technical workshops.
Visit the stage@leeds website to see what's on.
The Workshop Theatre
The Workshop Theatre is home to Theatre Studies in the School of English.
It's an intimate space that provides opportunities for all the different student communities to work with each other and study theatre.
Festivals on campus
The University hosts a number of free events for members of the public each year. Below you can find details of three events held on campus.
Light Night
Every October Leeds plays host to an evening of offbeat and creative cultural events including magical light installations and storytelling, much of it held at the University. Learn more
Be Curious
Ever been curious about what studies and research are taking place at the University of Leeds? Every March Be Curious allows members of the public to visit the University to learn about our research with free, interactive and exciting activities. Previous events have included guided tours of campus, theatre shows and activities for children. Learn more