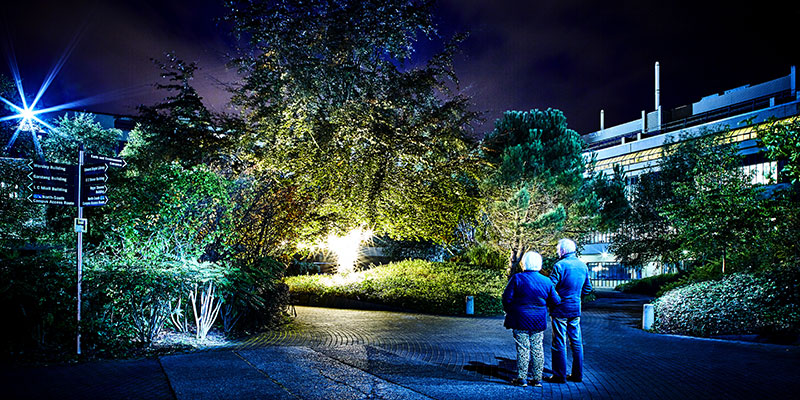 Each year the University hosts a series of events as part of Leeds' biggest free annual multi-arts event. Below you can find details of the events that took place for Light Night 2017.
Performances and talks
Leeds University Union presents
Leeds University Students
Leeds University Union
The two theatres in our newly-refurbished student union will be taken over by some of the brightest emerging talent in Leeds as our student societies perform a mixture of dance, music and spoken word performances inspired by two specially commissioned light installations.
The Urban Forest at Night
Cat Scott
Chancellors Court
Wander from tree to tree along a gently lit night time forest trail on the University campus. Admire beautifully lit trees in their autumnal glory, discover their value and their cultural significance, and learn about the carbon they store and the air pollutants they absorb.
Voices of Light and Dark

Various artists
Treasures of the Brotherton Gallery
Enter into the dark and experience the illumination of poetry. Leeds University Library Special Collections and the University of Leeds Poetry Centre invite you to listen to poems in a special display from our sound archives. All the poems have a strong Leeds connection and explore the theme of light and dark.
Music
(Re)Sounding the City

Various musicians
20 min performances at 7pm, 8pm and 9pm
Clothworkers Centenary Concert Hall, School of Music

Improvising musicians and multi-media artists come together to provide an organic, collaborative, and shifting soundtrack that celebrates the urban landscape of Leeds. In-between the sets, feel free to join in and improvise your own soundscape with provided instruments.
Art
Connecting the Marshall Threads

Artist: Alice Clayden
Stanley and Audrey Burton Gallery

Discover the legacy left by John Marshall, founder of the flax spinning industry in Leeds, and step into our Marshall Mill inspired textile installation. Led by local artist Alice Clayden, help to develop a unique piece of art which will link together the communities of Leeds using innovative fabric construction techniques

Green Light

Steve Ansell, Ian Lindley and stage@leeds
Outside stage@leeds

Green Light is a 'people powered' sustainable light installation. The installation has been created to celebrate the upcoming launch of the University of Leeds Sustainable Theatre Living Lab project at stage@leeds. Come and help us light the night. Free tea, coffee, or juice for all participants.

Resonant Topologies

Alex De Little and Stuart Mellor
Stage@leeds

Resonant Topologies is an audio-visual installation that explores the acoustic properties of architecture using an interactive app that helps guide the listener through a seemingly hidden world, opening their eyes and ears to the way in which sound transgresses the boundaries of the physical world.

Abstract Playground AP3

Will Hurt
Roger Stevens Building

See the Roger Stevens building in a new light. Press buttons to interact with a digitised version of the structure, its geometry, sounds and colours shifting as you play. Abstract Playground AP3 is a screen-based, digital interactive housed in a custom built arcade cabinet.

Soapbox Art and Science

Various artists and scientists
Beech Grove Plaza

Local scientists and artists take to the streets! Experience amazing artworks about stars and satellites, neutrons and the northern lights and come and hear about the new discoveries happening in the city, directly from 24 incredible women. Find out what inspires them and how art and science can smash stereotypes!

In Transition

Diego A. Quiñones Theoretical Physicist and Cat Scott Scientific-Artist
Parkinson Court

In Transition is an oscillating kinetic sculpture that represents the wave-particle duality of atoms and gravitational waves, made after research carried out at the University of Leeds.

Collaborators include: Azlee Babar - Sound Artist, Mark Carney - Mathematician/Hacker, Anzir Boodoo Puppeteer/Hacker and Tom Ward - Designer Maker.

Vessel

Artist: Jim Bond, Scientists: Paul Beales (Leeds) Barbara Ciani (Sheffield)
Parkinson Court

Vessel is a kinetic and light sculpture in response to current research at the universities of Leeds and Sheffield into the mechanism by which proteins sculpt compartments within cells. The shadow of a spiral is projected onto a flexing distorting membrane. Cloth and steel represent traditional workers of these cities.

Read more about music and performance at the University and see our events listings