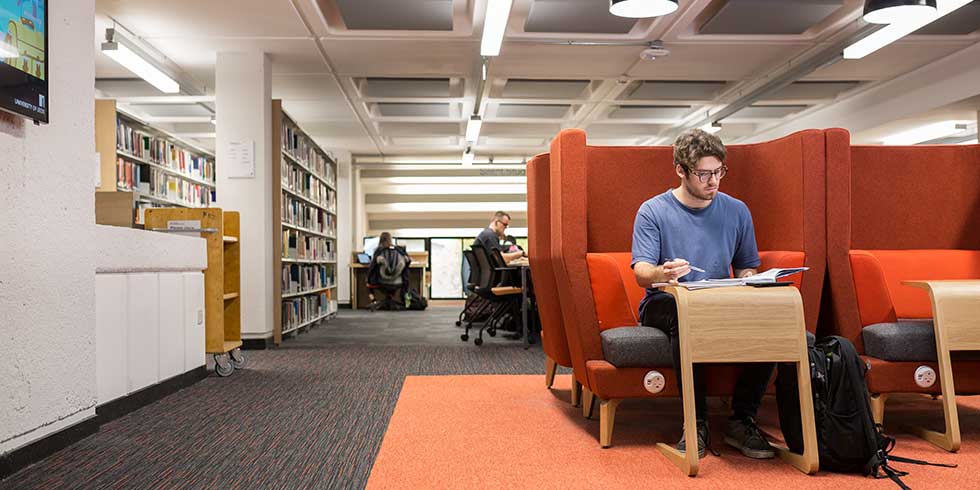 We're continually investing in the best facilities to support you in your studies, from brand new laboratories and lecture theatres to impressive libraries.
Libraries
Our four libraries on the main campus provide a variety of working environments to suit you, and they're open seven days a week during term time. The Laidlaw Library, for undergraduates, has core texts, high tech study facilities with wi-fi and charging points throughout. We also offer academic support and rooms for group work with interactive presentation equipment.
You'll be able to access all the books and online resources you need for your course. We have outstanding collections of rare books and manuscripts, which you can use for individual and group research as part of your course.
Computers and IT
A single login will give you access to all University IT services. You'll benefit from:
Personalised content, like your timetable and library record, on our mobile app.
Access to more than 1,800 PCs across our cafes and clusters, some of which are open around the clock.
Free, high-speed wi-fi in most areas.
An email account on the Office 365 service, giving you secure access to email, calendar, contacts and tasks, wherever you are. You can also get a range of free or reduced cost software, including Microsoft Office Pro Plus.
Secure access to your resources wherever you are with our Desktop Anywhere service.
Share group work and contribute to discussions using desk microphones in some of our new lecture theatres using our Virtual Learning Environment (VLE). The VLE, known as Minerva, also has video and audio recordings of most of your lectures so you can go back over your course content at a time convenient to you.
Benefit from an interactive learning forum, with learning resources and information including personal timetables, reading lists, past examination papers and assessment guidelines, and module information.
Language Centre
Learn a new language with the help of our specialist Language Centre. We have learning materials in more than 45 languages. To support your learning we have a self-access area for independent study. You can access our extensive collection of foreign language films and documentaries, and more than 50 TV channels in 20 languages.
You can also practise conversation skills with native speakers through our language exchange.
If you're an international student you can prepare to study in the UK with our pre-sessional English language courses. You'll also be able to develop your English language alongside your degree.