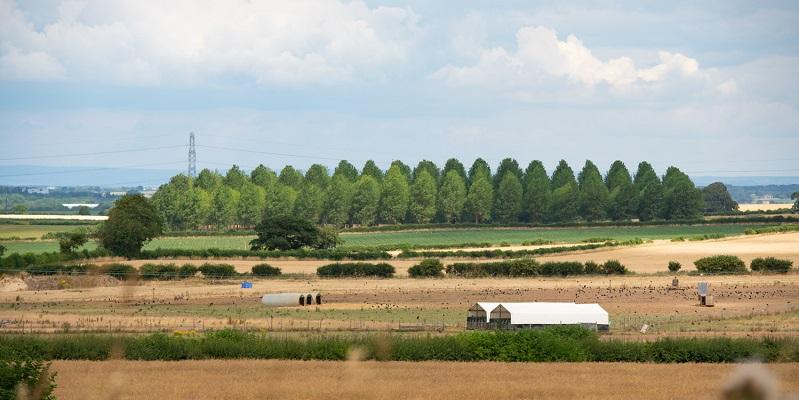 Situated in the shadow of the Pennine Hills between Leeds and York, the University of Leeds' farm boasts 317 hectares of fine, well drained loamy soil that sits above a dolostone aquifer. It operates commercially as a predominantly arable farm but includes pasture for livestock grazing and agroforestry. It is also home to the Centre for Innovation Excellence in Livestock's leading pig research facility.
The farm provides a valuable place for our scientists to conduct research that will be of use to the farming industry while also testing out new innovations outside the laboratory in a real, working farm environment.
We are now transforming the farm into an agricultural research centre where the latest in smart technologies can be put through their paces. All of the advanced farming technologies being developed by our researchers will be put to use and are drawing together expertise from across the University.
Meeting business needs
One of the key goals of the smart farm is to offer businesses practical solutions to address the challenges they face.
Technologies at the farm
Together with the Field Research Unit Manager Dr George Sorensen, we are already installing instruments for remote sensing of soil and plant interactions, monitoring the hydrology of the farm and deploying new imaging technology and robots. It also provides an opportunity to train and test algorithms that are being used to handle the data from the suite of sensors deployed around the farm.
Building a network
This highly instrumented site, however, is reliant upon another technology that is often a challenge for many rural locations where farms exist – communication. Our colleagues in the School of Electronic and Electrical Engineering have been working on high quality wireless communication networks that will allow sensors, analytics algorithms and robots to speak to one another.
With this in place, the power of our smart farm can start to be realised. Rather than simply receiving weather forecasts, it could start to provide detailed soil moisture forecasts by drawing on data from sensors deployed below ground and in surrounding water courses.
We hope to develop systems that can provide information about how the movement of nutrients, pollution and water will change with conditions. It can then provide the farm with details about where and when irrigation is needed, where fertiliser will be most effective and how to reduce the amount of pesticides washed off the fields.
The University already has an investment of £3 million to prototype a complete set of sensors that will be used to build this network over the coming years.
Improving animal welfare and productivity
With livestock, genomics data can be combined with real-time information about the environmental conditions, animal growth rates and food consumption from our precision nutrition work, and behaviour and health data from automated camera monitoring. We are working to integrate these systems into the daily running of the farm to improve animal welfare and productivity.
Taken together, our smart farm has the potential to help transform farming into an industry model that leads modern practices for the world and is capable of rising to the challenge of producing more food for a growing global population in the face of a rapidly changing climate.
Our other areas of research