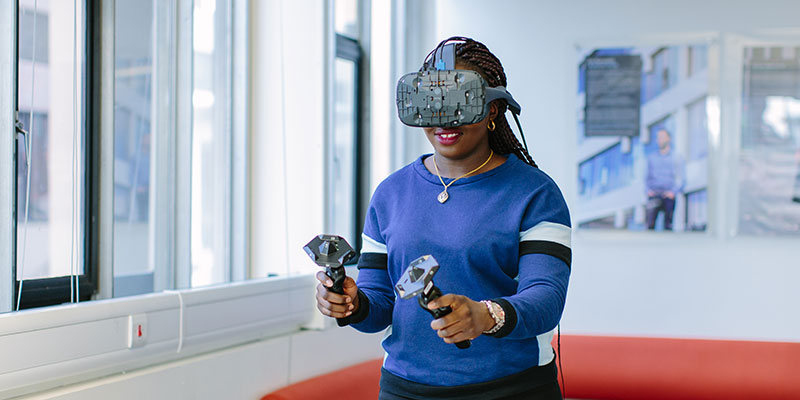 Immersive technologies - including augmented, mixed and virtual reality - are radically changing the way we use technology. We are at the forefront of research in this area, investing in facilities and expertise to address emerging opportunities.
At Leeds we conduct fundamental research into virtual reality as well as using the technology to develop practical applications. We connect entrepreneurs, businesses and researchers to tackle challenges using virtual reality.
Our research on virtual and augmented reality is aiming to benefit society through:
Improving health and wellbeing – addressing health challenges ranging from the physical rehabilitation of trauma victims and brain surgery through to treatment of dementia and phobias.
Cultural engagement – enhancing the cultural experience and broadening access to the nation's cultural heritage.
Accelerating education – using immersive technologies to deliver innovative training solutions to improve learning experience and learning outcomes.
Creating human centred design – using people's experience to develop human centred design solutions in business, government, education and society as a whole.
Enhancing productivity through design and development - the application of immersive technologies in new product and process innovation as well as in the design of urban and transport solutions for cities of the future.
Immersive technology infrastructure
Robotics at Leeds
Our team of engineers, scientists and clinicians use virtual reality to design and build robots within our Robotics at Leeds network. Researchers are able to use our £5.5m national robotics facility funded by the Engineering and Physical Sciences Research Council. Leeds researchers use the technology for a variety of purposes, from assisting surgeons during robotic procedures to exploring chambers in the great pyramids of Egypt.
Perception Action Cognition Laboratory
Leeds Institute for Data Analytics
The £45m Leeds Institute for Data Analytics (LIDA) brings together over 200 researchers and data scientists to harness the potential of big data. We are exploring the opportunities offered by virtual reality to visualise large datasets in intuitive ways.
Our campus is home to one of the UK's most advanced driving simulators and pedestrian simulators. Our Virtuocity initiative aims to use emerging technologies to improve the design of cities and the mobility of our citizens.
Virtual reality in the arts
Our Cultural Institute is advancing the role of virtual reality in the Arts and Humanities and connecting research in immersive technology to our creative industries. By bringing together researchers across diverse disciplines we aim to create outcomes such as immersive, interactive, spatial archives based on 360 degree photography and sound recording.
Case studies
Virtual reality in teaching

The University uses a number of virtual reality applications in delivering teaching from lessons on pathology in medicine through to our Virtual Worlds project. The award-winning Virtual Worlds Project is a tool created by a team from the University along with colleagues from Leeds College of Art, to develop students' geological fieldwork and mapping skills in the classroom. It uses a virtual landscape populated with rocky outcrops and employs game-based learning to build students' understanding of geological features.
Health and safety in virtual reality

Virtual reality is fast becoming a major part of our lives. But the health risks associated with this technology have yet to be resolved. University of Leeds' Professor Mark Mon-Williams is a leading expert regarding the challenges and opportunities associated with virtual reality and why these systems may need to be fundamentally redesigned.
Workshops for school pupils
The University offers workshops on Virtual Reality in our Sciences for schools. Pupils learn about how virtual reality works and use their smartphones and virtual reality headsets to experience its power to explore - such as looking inside a cell structure and the human body.
Work with us
We are open to working with businesses and other research institutions to develop virtual reality. If you'd like to find out more, contact
vr@leeds.ac.uk
. You can also follow us on Twitter
@vr_Leeds
.