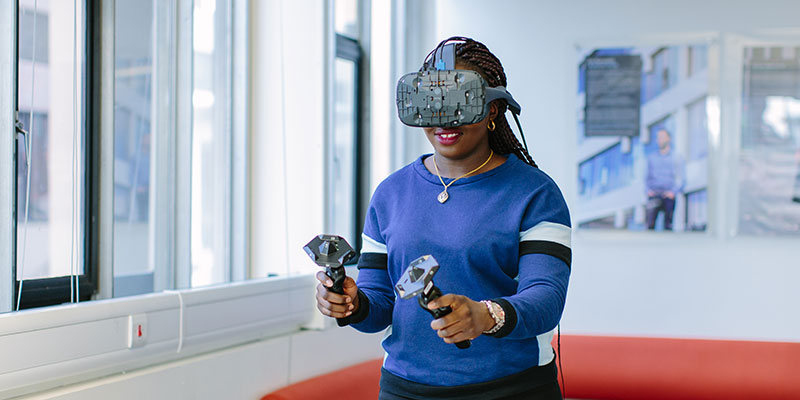 Immersive technologies – including augmented, mixed and virtual reality – are radically changing the ways we process information and interact with the world. This has implications for the creative economy, cultural experiences, health, education and economic productivity.
At Leeds, we are leaders in immersive technologies research; we connect entrepreneurs, businesses and researchers, and develop practical applications for the technology. We have established a new Centre for Immersive Technologies, which brings together academic researchers, partners and our impressive facilities.
We place humans at the heart of our immersive technologies research and are committed to developing solutions that increase productivity and help organisations respond to the challenges presented by the digital age.
Our research aims to benefit society through:
Facilities and infrastructure
Robotics at Leeds
Our team of engineers, scientists and clinicians use virtual reality to design and build robots. Our £5.5m national robotics facility which is funded by the Engineering and Physical Sciences Research Council is used for a variety of purposes, from assisting surgeons during robotic procedures to exploring hidden chambers in Egyptian pyramids.
Perception Action Cognition Laboratory
Our Perception Action Cognition Laboratory (PAC) brings together experts in experimental psychology, neuroscience, engineering and clinical medicine. Researchers at the lab, led by Professor Mark Mon-Williams, study the health risks and potential health benefits of virtual reality.
Leeds Institute for Data Analytics
The Leeds Institute for Data Analytics (LIDA) brings together more than 200 researchers and data scientists to harness the potential of big data. We are exploring the opportunities offered by virtual reality to visualise large datasets in intuitive ways.
Virtuocity
Our campus is home to our driving simulators and pedestrian simulators. Our Virtuocity initiative aims to use emerging technologies to improve the design of cities and the mobility of our citizens.
Dental training
The University is home to the largest virtual reality dental training facility in the UK. We have 30 simulators which our dentistry students use to hone their technical skills on virtual patients.
Case Studies
Workshops for school pupils
The University offers workshops on virtual reality for schools. Pupils learn about how virtual reality works and use their smartphones and virtual reality headsets to explore. This could include looking inside a cell structure and the human body.
Virtual reality and urban planning
We are working with BlockBuilders, a company that uses Minecraft to engage communities in urban planning. This enables us to explore new ways of involving the public in major planning and infrastructure decisions. In a recent project, researchers have used virtual reality to help the public imagine how new infrastructure might affect what a city was like to live and work in; we then went on to build a virtual city, Newtopia. The process enabled us to create a range of virtual tools to further engage the public and decision makers. A video fly-through of Newtopia was displayed at the United Nations Sustainable Development Goals Global Festival of Action.
Work with us
We are open to working with businesses and other research institutions to develop virtual reality. If you'd like to find out more, contact vr@leeds.ac.uk. You can also follow us on Twitter @vr_Leeds.