September 2022 marks the first anniversary of the Leeds Institute of Textiles and Colour (LITAC). It has been a busy year for our new Institute, so we have taken the time to pause and reflect on our activities so far, and our vision for the future.
Whilst LITAC seems new, we have roots dating back almost 150 years in textile and colour research. Building on the generous support of the Clothworkers' Company in 1874, the legacy continues as LITAC continues to be based within the historical Clothworkers' Buildings at the University of Leeds.
We take great pride in our heritage, but we are very much looking forwards. Our primary goal is to address global challenges in textiles, colour and fashion, which are our core research pillars. LITAC brings together world-leading research capabilities in science, engineering and design, alongside existing Centres of Excellence such as the Future Fashion Factory (FFF), the 3D Weaving Innovation Centre (3DWIC) and the Clothworkers' Centre for Textile Materials Innovation for Healthcare (CCTMIH).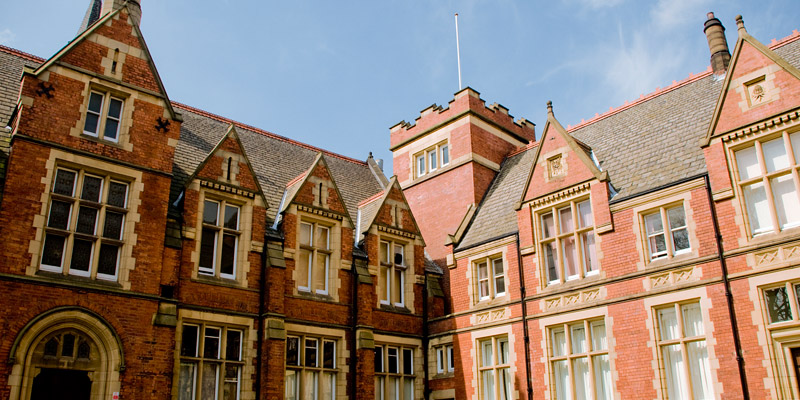 Now is a pivotal time for research in textiles, fashion and colour. The industry is seeking to innovate at every stage of the supply chain, to increase competitiveness, reduce environmental impacts and drive sustainable growth. There is a need to improve the design of products, develop new materials and advanced manufacturing processes, harness digitalisation, and to transition to circular economies, whilst addressing the challenge of net zero.
We have seen recent milestone successes in our research, such as the development of a new polyester dyeing and dye removal process, to aid fibre-to-fibre recycling, where Professor Richard Blackburn (LITAC) in collaboration with Professor Chris Rayner (School of Chemistry) won the John Lewis Circular Future Fund. The research deploys supercritical fluid CO2 to enable sustainable dyeing and dye-removal, enabling easier closed-loop recycling of polyester textiles. We also collaborated with the UK Fashion & Textile Association (UKFT), IBM and Tech Data to design, prototype and pilot a new technology platform to help the UK fashion and textile industry drive sustainability and profitability through increased transparency within supply chains.
Our industry collaborations and cross disciplinary relationships have been further developed through LITAC's Development Projects Call. Earlier this year, the first in a series of annual calls was made for proposals targeted at socially and industrially impactful research. The first cohort of funded projects included diverse themes such as colour forecasting in the metaverse, new polymers for chronic wound management, novel filter media, development of bespoke facial colour charts and musical fashion to create personalised style recommendations. We are looking forward to seeing how these research projects develop in the future.
As part of our work to address the skills gaps in industry, we launched an annual LITAC PhD Scholarships Call, and funded a raft of new research projects focused on early-stage, proof-of-concept projects in emerging areas such as AI and data-driven design, circular fashion, colour recognition, new fibre technologies and technical textile materials, in this instance targeted at the automotive industry.
Sharing our research and engaging new audiences is important to us. We set out this year to share some of our large research portfolio, by creating our own podcast and seminar series. The Global Challenges Podcast discusses some of the challenges facing industry and society, providing insights about the nature of the issues and the potential solutions. You can listen to our first episode about microplastics, and what we can do to decrease their release into the environment.
We also began our Life of Colour Seminar Series this year, in partnership with our Colour Technology Research Group and VeriVide. The seminar series deep dives into all things colour, with academic and industry speakers exploring colour analysis, technology and psychology. The monthly seminar has allowed audiences to hear from prestigious companies in the interiors, design and technology fields.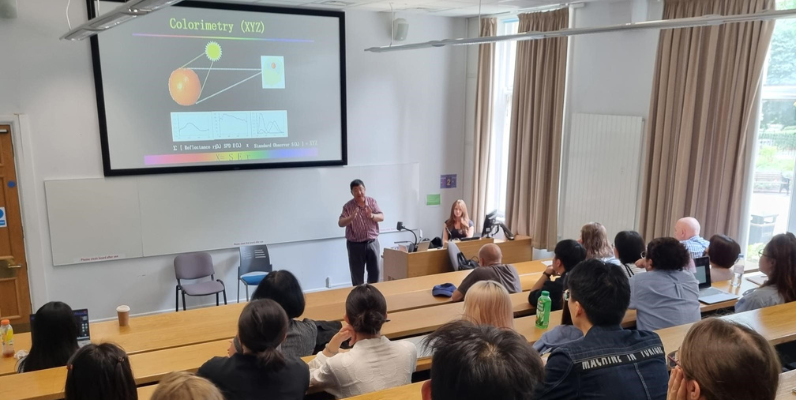 Find out more