Research in this area addresses the science and engineering of polymers, fibres, yarns, clothing and technical textiles as well as chemical treatments, with a view to improving product performance and reducing environmental impacts.
Textile Science and Technology
Our research includes:
Multifunctional polymer and fibre manufacturing.
New technologies and processes to enable circularity in the textile industry, as well as methods of preventing fibrous microplastic release at source.
Innovative textile chemistry, as well as laundry treatments to promote fabric longevity.
Medical textiles and fabrics for healthcare.
Characterisation and modelling of textile processes and materials, including process-structure-property relationships.
Research in textile technology is supported by extensively equipped laboratories for experimental work on:
Textile chemistry
Fibre extrusion
Yarn spinning
Weaving (including 3D)
Knitting
Nonwovens
Dyeing & finishing
Ink jet printing
Textile testing & characterisation.
You can watch Dr Muhammed Tausif (Associate Professor in Sustainable Textile Manufacturing at the University of Leeds) introduce the Lab-scale Staple Yarn Spinning Line (YouTube). This line can process natural, regenerated and synthetic staple fibres.

Extensive testing and characterisation facilities are also available on site, enabling textile materials and their properties to be comprehensively studied and quantified.
This research has led to innovative processes and products, as well as the launch of successful University of Leeds spinout companies that specialise in the areas of nonwoven product development, water conserving textile processes, and the extraction of plant-based chemistry for consumer products.
Centres of Excellence
Our research is supported by dedicated centres with extensively equipped specialist facilities
3D Weaving Innovation Centre (3D WIC)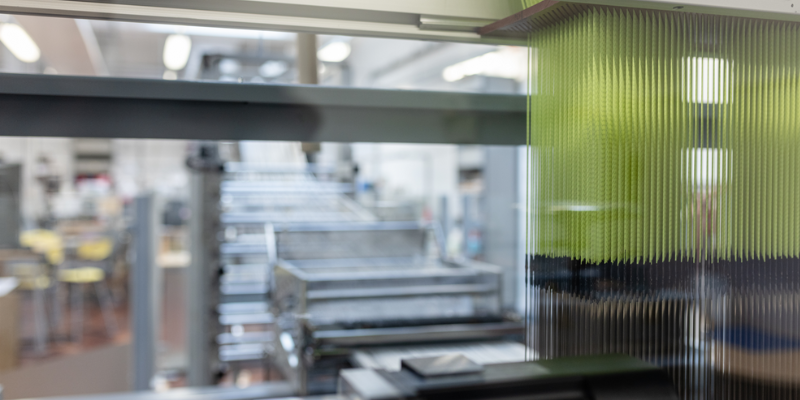 The 3D WIC aims to expand our research in the area of textile technology, by developing advanced 3D woven structure prototypes for a wide range of sectors from fashion, healthcare to aerospace. The Centre has a state of the art jacquard multi-shuttle loom, together with dobby power weaving technologies and CAD handlooms.
Clothworkers' Centre for Textile Materials Innovation for Healthcare (CCTMIH)
A growing ageing population is increasing the global demand for high quality, cost-effective healthcare products that can be readily accessed by all. New materials, manufacturing processes and finishing technologies are required to support existing and future products that rely on textile materials for their function. Many of these healthcare applications affect millions of people worldwide but significant technical challenges still need to be overcome in terms of product design and engineering. This Centre is working on developing polymer materials for new clinical procedures, as well as textile materials to improve the performance of existing medical devices.
Visit the Clothworkers' Centre for Textile Materials Innovation for Healthcare (CCTMIH) website.
Polymer science
Research in polymer chemistry covers the design and characterisation of monomers and macromolecules to generate functional polymers and polymer-containing materials based on targeted application.
Interests are in the design and development of novel monomers for use in controlled polymerisation reactions to yield highly multifunctional polymers, novel photocatalytic materials, renewable fibre forming polymer materials, biodegradable materials, multifunctional fibres and flame retardant materials for extreme environments.
There is also significant work in the areas of:
Biomaterials: synthesis of multifunctional hydrogels and fibres, filament-based soft robotics, diagnostic and theranostic polymer materials with tunable properties for applications in woundcare, regenerative medicine and other medical devices.
Surface coatings: polymer synthesis and conversion, rheological properties, migration phenomena, ageing effects, controlled delivery, appropriate mechanical and dynamic priorities, and end of life strategies (waste handling).
Printed electronics: design and synthesis of high-performance semi-conductor molecules, formulation of conductive and dielectric inks, development of point-of-care medical diagnostic sensors, development of ultrathin and high-performance lithium-ion batteries.
Researcher Spotlight
We sat down with Kate Morris, a LITAC PhD researcher, in her first year investigating the physical and emotional durability of garments and how this could facilitate circular fashion, alongside her supervisors Dr Mark Sumner and Dr Mark Taylor in the School of Design.