There are various cultural attractions, resources and spaces on campus. Explore venues for exciting live events, concerts, and exhibitions.
Locations
Clothworkers Centenary Concert Hall
The Clothworkers' Centenary Concert Hall hosts the University Concert Series. The Series has given Leeds a varied and exciting programme of recitalists – from legendary performers to up-and-coming young artists. From brass bands to chamber orchestras, from comic opera to live music coding, the Series offers a wide variety of exciting performances.
You can enjoy a programme of free Friday lunchtime recitals by the School of Music. Join us for early evening 'rush hour' performances or round off the week with a Sunday afternoon concert.
Leeds University Union
The Union is home to four performance and art spaces. It hosts club nights and live events throughout the year as well as comedy nights, spoken word recitals, and other cultural events reflecting the diversity and talent of our students.
Marks & Spencer Company Archive
Michael Marks Building
The M&S Company Archive holds a collection of more than 71,000 items dating from the beginnings of the business in 1884 to the present day. Visit the permanent Marks in Time Exhibition to see highlights from the collection including displays of vintage fashion, merchandise, film and photographs. From the clothes we wear to the food we eat – which M&S favourites will you discover?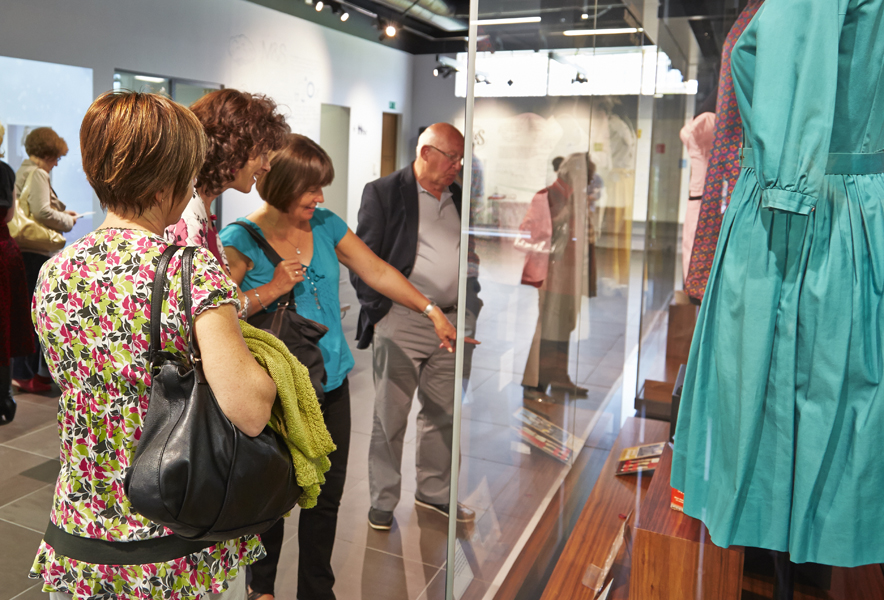 Stage@Leeds
Performance and Cultural Studies
Stage@Leeds is a public contemporary performance space dedicated to artist development and supporting innovative new work. Regularly hosting a broad range of productions by a variety of theatre makers, Stage@Leeds provides a dynamic programme of evening performances and immersive experiences.
ULITA: Archive of International Textiles
Design
ULITA collects, preserves and documents textiles from across the globe. The archive can be visited by appointment, and holds stunning examples of Chinese Qing dynasty embroideries, Kashmiri shawls, Pakistani block prints, Javanese batiks, Japanese and West African textiles, and 18th to 20th century European textile samples – you can view the major collections on the website. Located in the dramatic surroundings of St Wilfred's Chapel, temporary exhibitions explore a variety of world textile design and creativity.
Usual exhibition opening hours: Tuesday to Thursday – 9.30am to 4.30pm. Fridays by appointment.
The Refectory
Since the late 1960s the Refectory has hosted some of the most important acts around, including Led Zeppelin, Bob Marley, Rolling Stones and Elton John. Perhaps one of the most famous live recordings ever made, The Who Live at Leeds, was recorded in the Refectory.
The Stanley & Audrey Burton Gallery
Art gallery in the Parkinson Building
Over the past 100 years the University has collected over 3,000 paintings, prints, sculptures, works on paper and ceramics. Visit the Gallery in the iconic Parkinson Building to see a permanent display of works by important artists, including Stanley Spencer, Trevor Bell, Jacob Epstein, Ben Nicholson, Terry Frost and Vanessa Bell.
The year-round programme of special exhibitions and displays may even inspire your own creativity. Drop in to the free weekly Sketch Club on a Friday afternoon or sign up for monthly Life Drawing. Look out for talks, workshops and special events, or come along for a glass of wine and celebrate an exhibition opening.
Admission to the galleries and all exhibitions is free.
Treasures of the Brotherton
Parkinson Building
The Treasures of the Brotherton Gallery houses a collection of rare books and manuscripts. The display includes original material written by the Brontës, stunning illuminated medieval manuscripts and rare books from across the globe.
Visitors are invited to explore a fascinating selection of objects in permanent displays and a changing exhibition programme reveals the stories held in these beautiful and intriguing objects.
Free lunchtime talks and workshops bring the archives to life, with a monthly drop-in Tuesday Treasure offering a chance to get up close with a showcase of unique material from the collections. With material covering music, theatre, early maths and science, politics and social history and English literature, you're sure to discover some unexpected treasures.
Workshop Theatre
Established in 1967, the Workshop Theatre is home to the academic study of Theatre Studies in the School of English.
The Workshop Theatre is a laboratory space for undergraduate, postgraduate and staff research into performance possibilities, and hosts a variety of productions by student societies. Public performances are programmed throughout the year, including students' course work, pre-production work prior to the Edinburgh Festival in July, and occasional visiting professional companies.
More information
What3words
What3words is a system designed to identify any location with three words. The developers divided the world into 3 metre squares and gave each square a unique combination of three words. Compared to current street addressing systems, what3words provides more accurate location information.
Many of the buildings and facilities in our directory have a what3words location that you can view in your browser or using the free app. For more information visit What3Words