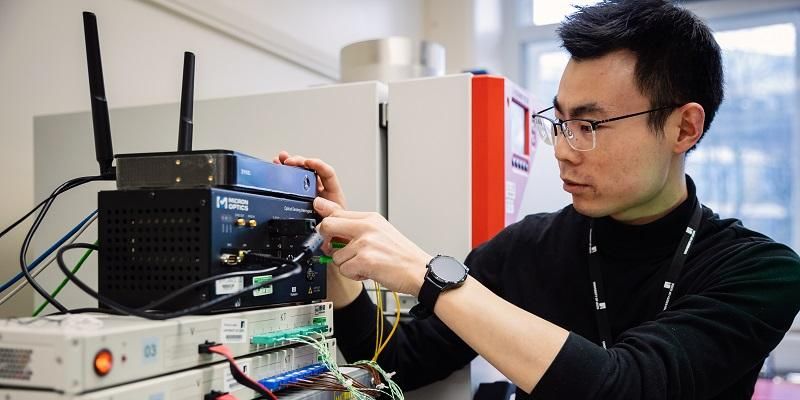 Decarbonisation is making our energy systems more complex. Systems that were traditionally separate – power, heating, transport – are becoming more integrated.
Energy is no longer passively delivered from large producers to the consumer. Consumers are now also producers, actively managing energy use and production in a decentralised system that needs to handle fluctuating renewable energy sources and reverse flows.
Managing this complexity for maximum efficiency and the lowest carbon footprint requires intelligence: smart energy systems.
An integrated approach
The University is working on this challenge at every level.
Our researchers are developing the technological innovations – such as smart sensing networks, machine learning and AI – necessary for us to collect and manage the data and make choices about energy use and optimisation.
We also looking at the techno-economic and social aspects of smart energy systems, investigating new business models that will enable these complex systems to be sustainable, as well as the policy changes needed to encourage their development.
We're also involved in projects to engage the public in new ways of using, creating and paying for energy.
Our work covers multi-vector energy systems and transport. We work in partnership with industry and other academic researchers, through national initiatives such as the Energy Networks Supergen hub, the Energy Research Revolutions Consortium (Energy REV), the Centre for Energy Systems Integration (CESI), the Centre for Research into Energy Demand Solutions (CREDS) and the UK Energy Research Centre (UKERC).
Our particular expertise includes:
large- and small-scale energy storage systems and integration within a smart grid, including flow batteries, electric vehicles (EV) and compressed air
sensor technology and AI for system control, operation, maintenance and decision-making
energy efficiency and carbon reduction for large industrial consumers, such as the steel industry
transport electrification for road and rail
forecasting of demand and supply to coordinate and ensure efficient energy use within local grids
techno-economic assessments: managing energy consumption to maximise use of low carbon sources as well as reduce cost
new business models for EV networks, energy utilities and multi-vector energy networks – and the policies that will enable these to thrive
user engagement in local grids and in relation to transport; looking at travel behaviour, car ownership and vehicle choice and the implications of these on the energy system.
Work with us on smart energy systems
For enquiries about our research and working with us please email the Energy Leeds team via energy@leeds.ac.uk.