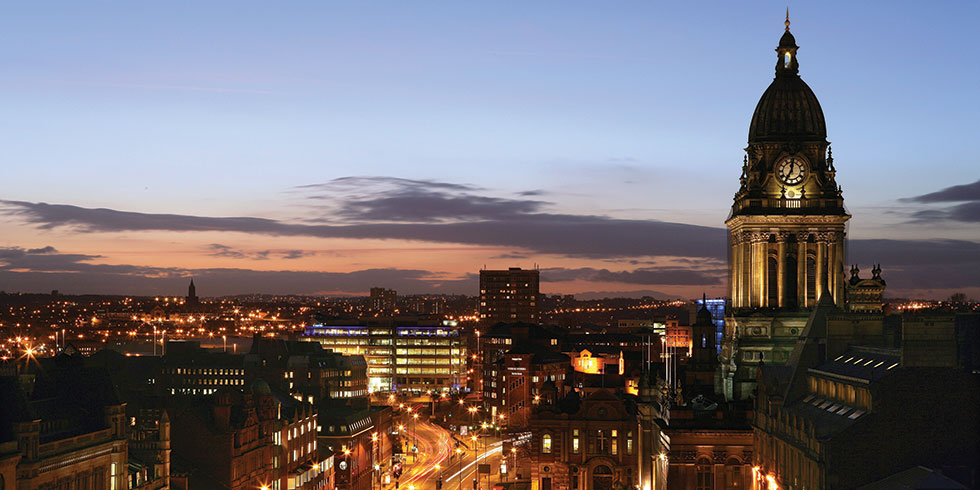 Our research aims to help to create socially, environmentally and economically sustainable cities. It is rooted in the insight that cities are complex and interacting systems. Our researchers play leading roles in national and international cities research, working on projects in a number of areas including:
examining the resilience of infrastructure systems
low-carbon city systems
retaining local value
non-exploitative finance and the links between financial governance and inequality
justice and inequality in cities
'big data' in cities
the co-production of research with local stakeholders
At the heart of our research and funding portfolio are large grants and cross-disciplinary centres funded by the EPSRC, ESRC and NERC. With a strong reputation for working with community, industry and government partners, Leeds is at the forefront of helping build more sustainable societies and cities fit for the future and able to face climate change challenges.
Key strengths

We have established five core research areas:
Sustainable cities: our work here aims to address the challenges faced by those cities and communities prone to earthquake hazard, by increasing their resistance to seismic shocks.
Social cities: how do we retain our cultural and built heritage and work towards an inclusive and fair society for all?
Smart cities: how do we best use technology and information to make our cities work better for us?
Resilient cities: how do we ensure infrastructure that best meets society's needs is developed and built?
Financing cities: how can financial markets and systems be developed to support society?
Our researchers work with cities across the UK and around the world, frequently using our home city of Leeds as a testbed for ideas that are then applied elsewhere.
Facts and figures

Locally, our work has informed Leeds City Council's strategy for balancing commercially viable investments in housing with strategic priorities for driving down fuel poverty through modelling district heat networks. These tools are now being piloted in a number of UK cities to improve urban systems and city living.
Nationally, we have influenced HM Treasury's guidance on valuing infrastructure spend in the Green Book through research on new approaches to economic evaluation of systems of infrastructure provision.
Over 150 researchers from across the University are already active within the Cities network, working on projects ranging from rethinking the value of infrastructure (iBUILD) to using robots to repair city streets and utilities, to understanding how financialisation has contributed to the European debt crisis.
Our Cities researchers now account for research projects of more than £16m.
At Leeds we have established integrated transdisciplinary research networks exploring and empowering transformations towards sustainable societies and resilient infrastructure systems within and beyond Cities.
Major projects
INTALInC
Our work on 'Transport and Mobilities Networks' in Cape Coast (Ghana), Dhaka (Bangladesh), Lagos (Nigeria) and Kampala (Uganda) aims to build capacity for collaboration in the design and delivery of socially inclusive transport systems, with a particular focus on the most vulnerable members of the city.
Self-repairing cities
We are leading a pioneering £4.2 million national research project to create self-repairing cities. Researchers are developing robots that will fix problems and utility pipes, street lights and roads with minimal environmental and public disruption.
Transformational route-mapping for urban environments (TRUE)
Through the TRUE project, we have developed tools for working out how cities can address complex challenges – such as inequality, crime, housing shortage and traffic congestion – by promoting coproduction and collaborative working practices.
iBUILD
iBUILD is developing new business models to improve the delivery of infrastructure systems and the services they provide. These will better exploit the opportunities that emerge from the increased interdependence of modern infrastructure systems.
Leading research on urban analytics
Professor Mark Birkin leads the urban analytics research programme of the The Alan Turing Institute. The programme provides evidence to inform government and business policy.
Virtuocity
Innovative technologies will change the way people move around cities. Virtuocity brings together expertise from University research facilities, including the Driving Simulator and Leeds Institute for Data Analytics (LIDA) and works with industry partners and stakeholders to answer questions and co-produce new solutions.
Our work in practice
Key people
Professor Gary Dymski
Co-Director of the cities theme
g.dymski@leeds.ac.uk
Professor Phil Purnell
Co-Director of the cities theme
p.purnell@leeds.ac.uk
Faye McAnulla
Research and Innovation Development Manager
F.E.McAnulla@leeds.ac.uk
If you would like to work, partner or collaborate with us, or want to know more about the research we are involved with, email cities@leeds.ac.uk.