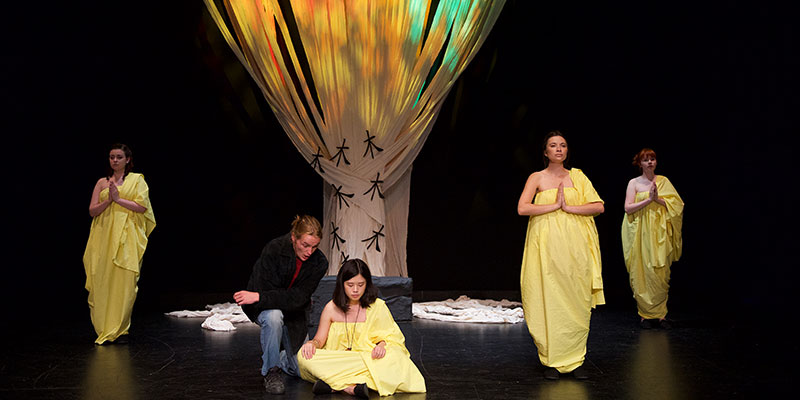 We aim to use culture to tackle some of the world's most pressing problems. Many of the issues we face, from the personal to the global, have a cultural dimension.

We use cultural methods to combat issues related to health, environmental change, or trauma caused by political upheaval or conflict. Different cultural approaches can enable us to respond to and engage with challenges in distinctive ways.

Through co-production of research, creative projects and cultural engagement, our researchers and practitioners are harnessing culture as an agent of change.
Key strengths

Our researchers are developing cultural solutions that bring about change through shaping behaviour, understanding or wellbeing. We are continually looking to spark innovative collaborations, harnessing the skills and talents of Leeds researchers to explore new areas and dare to take risks.

Our research is enriched by working in partnership with the creative and cultural industries, enabled through our Cultural Institute. Our collaborations strengthen existing links and build new partnerships with a broad range of external partners. we work with the creative and cultural industries. Together we produce research which helps people to imagine, interpret and understand solutions to key global challenges.

Our research focuses on the following areas:

medical humanities
culture and policy
digital cultures and humanities
conflict
memory and trauma
environmental humanities
language and culture
Facts and figures

Arts and Culture contribute £11.8bn to the UK economy each year, and in 2015 grew by 10% - five times faster than the UK economy as a whole.
The creative industries contribute £91.8bn gross value added (GVA) to the UK economy, bigger than the automotive, life sciences, aerospace, oil and gas sectors combined.
UK universities concentrated in the arts and humanities make up a third of the world's top three positions (QS world rankings 2018).

Leeds is recognised as a global centre of research and teaching excellence in the Arts and Humanities, regularly ranked by QS in the world's top 100, with world-class archives and facilities.

We have more than 300 staff associated with the culture theme at Leeds.
Since 2012 culture researchers have worked with more than 700 third, public and private sector individuals, companies and organisations.

The Cultural Institute is an Arts Council England National Portfolio Organisation, delivering a CPD programme in fundraising for UK arts professionals in consortium with Cause4 and the Arts Marketing Association. Our National Summer School in Arts Fundraising and Leadership is the first of its kind in Europe.
Major projects
We are involved in the following culture projects:
Medical humanities
Identity and governance of bodily extensions: the case of prosthetics and avatars
Endless possibilities of rejuvenation
Culture and policy
History and policy
Culture policy research centre
Bradford's National Museum
Conflict, memory and trauma
Legacies of war
Performing the Jewish archive
Environmental humanities
Environmental humanities for a concerned Europe
Land lines: British nature writing 1789-2014
Digital cultures and humanities
Yarn
Weaving codes coding weaves
Digital Latin American cultures
Our work in practice
Changing The Story

Our researchers are working with young people in post-conflict countries to support them in building of inclusive societies. Working in a range of countries including Cambodia, Colombia, Kosovo, Rwanda and South Africa, this four-year programme draws together universities, international non-governmental organisations, grassroots civil society organisations and young people across the world.

Through methods such as participatory film-making, young people can communicate their experiences and perspectives of conflict in a creative way. The programme brings together arts and humanities researchers with social scientists to deliver practical approaches to international development.

Virtual Holocaust Memoryscapes

We are using digital technologies to help preserve memories and places connected with the Holocaust. Using 360 degree photography and sound recording, we are creating immersive, interactive and virtual resources.
These virtual environments are based on painstakingly collated archival content such as films, photographs, diaries and oral testimonies.

By amalgamating these and making them accessible through a virtual reality headset, website or mobile app, people will be able to experience a 'virtual memory' of the Holocaust. The project aims to ensure that Holocaust memory remains relevant for future generations.

BBC archives: creating living resources through public collaboration and engagement

Read more about the BBC archives.

Project performance: new approaches to digital projection practices

Read more about project performance.

Exploring concepts of citizenship and national identity

Read more about the From Subjects to Citizens project.
Key people
Professor Alison Fell
Culture Theme lead, Director of the Leeds Humanities Research Institute
a.s.fell@leeds.ac.uk
Sue Hayton
Associate Director, Cultural Institute
s.hayton@leeds.ac.uk
Medical Humanities
Dr James Stark
Culture and Policy
Dr Leila Jancovitch
Dr David Bell
Professor Will Gould
Dr Laura King
Conflict, Memory and Trauma
Professor Alison Fell
Environmental Humanities
Dr David Higgins
Language and Culture
Professor Cecile de Cat
Professor Maggie Kubanyiova
Digital Cultures and humanities
Dr Simon Popple
If you would like to work, partner or collaborate with us, or want to know more about the research we are involved with, email culture@leeds.ac.uk.
If you are a member of University of Leeds staff you can find out how to get involved with the culture theme.