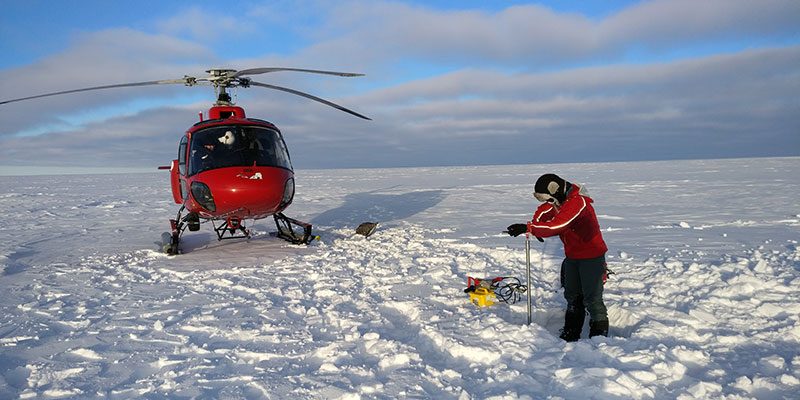 Climate change and its impact on society and ecosystems is a pressing global concern, demanding solutions developed by a community of researchers who work together across a range of disciplines.
At Leeds, we are dedicated to improving our understanding of fundamental climate science and developing solutions to reduce climate change and its impact on nature and society.
The Priestley International Centre for Climate established in 2016, is a major investment (more than £10m) by the University of Leeds to grow interdisciplinary research to underpin robust and timely climate solutions.
Key strengths
We are centrally engaged in global agendas, for example with eight lead authors for the upcoming UN Intergovernmental Panel on Climate Change (IPCC) 6th assessment report, and two lead authors on each of the forthcoming IPCC Special Reports on Global Warming of 1.5°C and Climate Change and Land Use.
Our research focuses on four key areas:
We're working to better understand and simulate the climate of the past and the present, in order to improve our predictions for the future.
Our researchers build tools to determine the likely impact of changes in rainfall, crop yields, sea level rise and land degradation. This work helps practitioners better understand risk and translates into practical approaches.
We're looking at low carbon transitions, focusing on renewable technologies and carbon capture and storage and transforming them into exciting new ideas that can operate at scale for sustainable energy and transport systems, especially in cities.
And we're ensuring the global climate solutions we are developing will serve the needs of society. Through engagements with people and politicians, we empower them to steer our research and to make informed decisions.
Facts and figures

Major projects
A SWIFT response to weather forecasting
We are a key partner in the Global Challenges Research Fund (GCRF) Science for Weather Information and Forecasting Techniques (SWIFT) programme. The collaboration has made fundamental research advances to improve weather forecasts in African countries and build the operational capability of African forecasting agencies. The impacts will be felt by many millions of African people, across sectors from aviation to agriculture, energy, water and emergency response.
Understanding sea level change in the Arctic
We house key national centres, including the NERC Centre for Polar Observation and Modelling (CPOM), where researchers are generating information on Arctic ice thickness using satellite data from the European Space Agency's CryoSat-2 mission. This leads to improved estimates of sea-level rise and provides information for users of the region, such as shipping companies.
Living Well within Limits
This interdisciplinary project brings new methods to analyse and model the relationship between economics and human well-being, allowing ways of decoupling human needs from energy use to be explored. The work informs recent high level comprehensive policy goals, such as the United Nation's 2030 Agenda for Sustainable Development and the European Union's 7th Environmental Action Programme.
NERC-DFID Future climate for Africa programme
Future climate for Africa (FCFA) is a £20m programme to develop improved understanding of both climate change in Africa and its impacts, and to work with decision makers in Africa to make use of this information for decision making on the five to 40 year time scale. Leeds the most widely represented institution in the programme with involvement in four out of the five consortia (including one lead):
AMMA-2050 (African Monsoon Multidisciplinary Analysis 2050)
HyCRISTAL (Integrating Hydro-Climate Science into Policy Decisions for Climate-Resilient Infrastructure and Livelihoods in East Africa)
IMPALA (Improving Model Processes for African Climate)
UMFULA (Uncertainty reduction in Models for Understanding Development Applications)
Tropical forests in a changing climate
Tropical Forests in the Changing Earth System is a European Research Council project aiming to construct a pan-tropical observatory of forest function, to explore forest response to global change.
Environmental humanities for a concerned Europe, ENHANCE
A Marie Curie European innovative training network (ITN) providing multidisciplinary doctoral training in Environmental Humanities.
Our work in practice
Delivering a new generation of climate simulations
Producing regional climate narratives to make better predictions of future climate
Reforming crop breeding to keep pace with climate change
Triple-win adaptation tackle climate change, land degradation and biodiversity loss
Limiting risks from Arctic sea ice changes using near-real time satellite monitoring
Policy recommendations for energy demand reduction
Decarbonising city heat using the Leeds Heat and Planning Tool
Communicating climate and weather risk
Low carbon action plans for climate smart cities
Key people
Directors
Professor Piers Forster
Director, Priestley International Centre for Climate
Professor John Plane
Deputy Director, Priestley International Centre for Climate
Professor Wandi Bruine de Bruin
Deputy Director, Priestley International Centre for Climate Management Committee
View the management committee
Contact
Dr Shona Smith
Research and Innovation Development Manager
Tel: 01133430563
s.c.smith@leeds.ac.uk

If you would like to work, partner or collaborate with us, or want to know more about the research we are involved with, email climate@leeds.ac.uk.