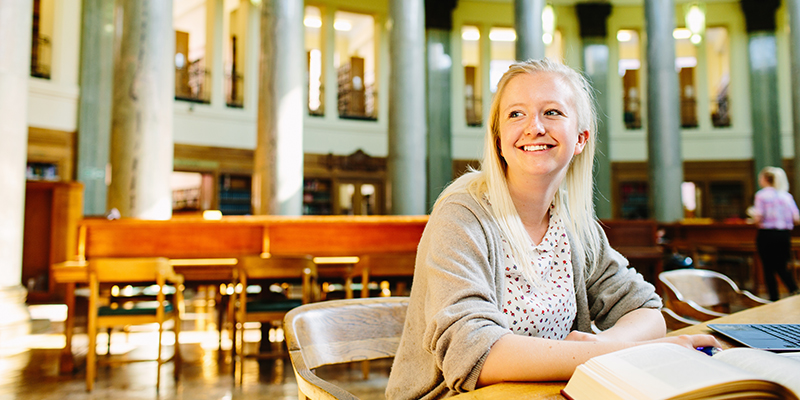 Widening access
We believe that students should have the opportunity to realise their potential, regardless of their background. We actively engage with schools, partner institutions and community groups to help support people from a range of backgrounds and all ages gain access to higher education. Our education engagement team work to raise aspirations, bring pupils onto campus to experience university and support student volunteers going into schools.
26% of our undergraduate students are from disadvantaged backgrounds
We know that A-level grades alone cannot tell us everything about a candidate's abilities and the Access to Leeds scheme helps identify and support people with the potential to succeed at Leeds. We also offer alternative entry routes and recognise prior learning.
Access to Leeds scheme has helped over 3,000 students from disadvantaged backgrounds study at the University
We offer specialist support for people wanting to return to education. Our Lifelong Learning Centre helps people wanting to study full-time or part-time at undergraduate and postgraduate level and provides a large range of courses, including foundation degrees.
Online courses
We are sector-leading in digital learning, offering a number of online courses which opens up access for a range of groups including those who have been excluded from higher education because of their life circumstances, those who want to get a head start in their university application by taking a particular course online early or those who want get a foot in the door of a particular career after taking an unrelated first degree. Leeds is the first Russell Group university to offer credit-bearing courses on the FutureLearn platform opening up the possibility that in the future online courses will contribute directly to degrees.
Offering credit-bearing courses on Futurelearn signifies our ongoing commitment to widen access to higher education and desire to offer flexible and inclusive education. It also showcases our excellence in research-based learning.

Vice-Chancellor Professor Alan Langlands