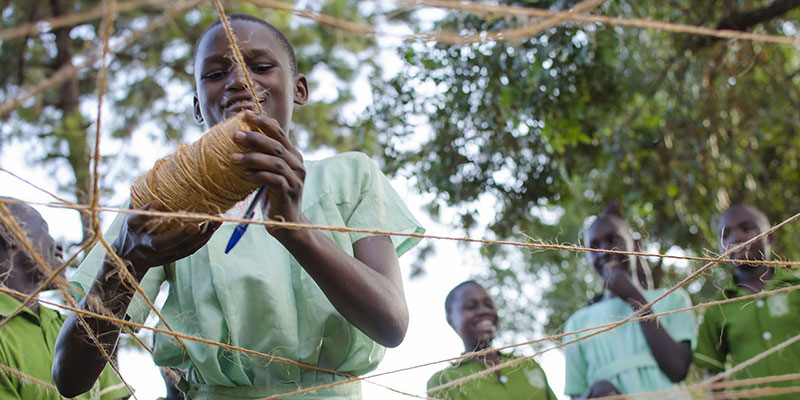 We are working to understand and influence social change across the world. From modernising policing methods in the UK to keeping girls in school in Uganda, we aim for research which has an impact.

Processes such as globalisation are leading societies to become increasingly complex, requiring ever more innovative solutions to challenges such as inequality and social justice, migration, economic and environmental sustainability, and security. These issues need inter-disciplinary social science research that engages with policy-makers and the public to shape our future.

Key strengths
The Leeds Social Sciences Institute is committed to collaborations that produce research which has an impact. Our goal is to promote partnerships, build skills capacity and carry out research to shape policy, public debate, and professional practice.

Initiatives such as the Migration Research Network enable Leeds' academics to promote change and inclusion through partnerships. The network is formed of researchers and external organisations, such as Leeds City Council and migrant support services, which ensure our approach is focused and relevant.

This practical approach is also reflected in programmes such as the N8 Policing Research Partnership, a collaboration between researchers and policing professionals to address some of the challenges of public security.

The Leeds Social Sciences Institute is taking a lead in the international arena, too, forming partnerships with research institutes in Europe, East Asia, Australia and South and North America.

Through our involvement in the White Rose Doctoral Training Partnership and University Academic Fellows mentorship, we are also playing our part in developing our social scientists and equipping them to continue developing new ideas and approaches in a constantly changing world.

Major projects
Socially Inclusive Cities

Failure to include all social groups in development globally has led to people from minority ethnic and religious groups being more likely to have low paid work, risky living conditions and poorer access to healthcare, education and other public services.

Academics from Leeds created the Socially Inclusive Cities network, with partners in the UK, Nigeria, India, Kenya and Vietnam aims to draw together global research on inequality to find ways to address this situation.
The network has brought together research and practice evidence on effective strategies to address inclusion in healthcare, education, local government and police institutions.

Workshops held in the partner countries will bring together researchers, policy-makers, advocacy organisations and service providers to identify strategies that can bring about change and create inclusive cities.

Keeping school girls safe from exploitation

Our researchers are working to keep girls in schooling in Uganda. Discrimination against women is widespread in Uganda and girls face multiple barriers to accessing school. An action research project, led by Leeds academics aimed to understand these barriers.

The project focused on increasing girls' educational opportunities in one school in Jinja, Uganda, through challenging inequality and highlighting it as a problem. A social platform – made up of stakeholders – and a Girls' Club was set up, and continue to meet regularly to ensure research activities contribute directly to local policies and practices.

The team also produced guidance for Ugandan teachers to help strengthen institutional capacity to recognise and respond to educational barriers.

Technology and transformation on policing

Researchers in the Business School are providing information that will help the UK's 44 police forces to map out their digital future to 2025. This will help them to change and develop to ensure they're effective at tackling crime.

Mental health and housing

Those at risk of displacement or homelessness have an increased likelihood of developing mental health problems. Researchers from the Business School and community action group Focus E15 is helping to shape national debate and highlight the need for mental health services to be made available to those at risk.

Extending the welcome

A project involving practitioners from the creative arts and social sciences has established the potential for refugees and other migrants to develop communication and belongingness through performing arts.

Facts and figures
There are over 450 researchers associated with the Leeds Social Sciences Institute.
The value of research grants for the 2016/17 academic year was £17 million.
We are working with over 140 external partners regionally, nationally and internationally.
Key people
Professor Adam Crawford
Director of Leeds Social Sciences Institute

If you would like to work, partner or collaborate with us, or want to know more about the research we are involved with, email lssi@leeds.ac.uk.