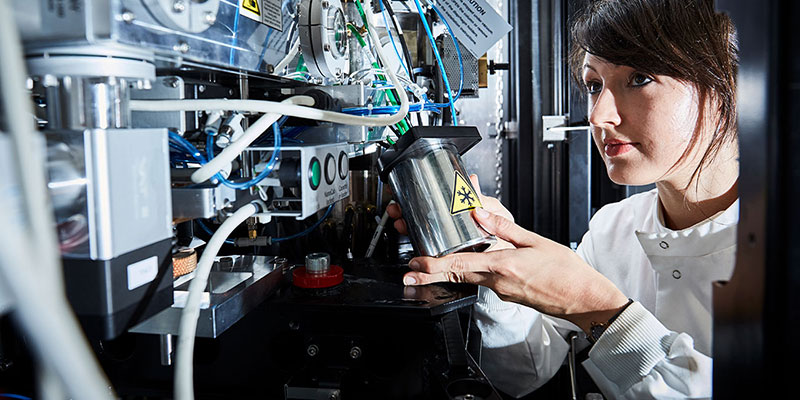 We are aiming to use structural biology to solve major issues from curing the common cold to developing new antibiotics. The Astbury Centre for Structural Molecular Biology brings together researchers from physics, the biological sciences and chemistry to understand the molecular basis of life.

The centre has outstanding expertise and research infrastructure in chemical biology, biophysics and all of the major techniques in structural molecular biology. Together, these approaches are combined with analyses of biological function with the ultimate aim of understanding the molecular basis of biological mechanisms in living cells.

The Astbury Centre is a major stakeholder in a BBSRC funded PhD programme that recruits students with the wide range of expertise to address fundamental biological questions.
Key strengths
The centre is named after William Astbury FRS, a pioneer of interdisciplinary science and former professor at Leeds. His work with DNA and proteins laid the foundations for studies of biomolecules and their interactions.
The current research priorities of the centre are divided into four areas:

Structural biology

Understanding the structure of biological molecules and their complexes is fundamental to understanding biological mechanisms, and underpins future drug discovery. The Astbury Centre has a wealth of expertise in all major structural methods: X-ray crystallography, nuclear magnetic resonance spectroscopy and electron microscopy, with the £17M Astbury BioStructure Laboratory hosting infrastructure that is competitive with the best in the world.

Chemical biology

Chemical biology involves the application of chemical tools and approaches to address biological problems. Within the Astbury Centre, chemists are engaged in collaborative research programmes to address a range of biological, chemical and medical problems. These include the design and synthesis of new drugs, the development and exploitation of small molecule tools to interrogate biological mechanisms, pioneering new approaches in synthetic biology and engineering new enzymes for use in synthetic chemistry.

Biophysics

To understand the molecular basis of life, we need a detailed knowledge of the structure of biological macromolecules and how they interact with each other and with molecules in the living cell. Our researchers exploit the widest possible array of biophysical methods (including biological mass spectrometry and atomic force microscopy) to understand interactions between biological molecules including protein-protein, protein-nucleic acid, protein-lipid and protein-ligand interactions.

Molecular interactions in cells

To complement analyses using biophysical approaches in vitro, researchers in the Astbury Centre also study molecular interactions within the context of the whole cell.
Major projects
Many degenerative diseases can be traced to molecular interactions that have gone wrong. Only by understanding this process can we pave the way for much-needed new treatments, preventions and cures. At the Astbury Centre, we integrate powerful structural biology techniques – electron microscopy, nuclear magnetic resonance and X-ray crystallography – with chemical, biophysical and cell biological approaches.

Tackling antimicrobial resistance: The number of effective antibiotics is decreasing and no new ones have emerged for 25 years. In order to survive, bacteria form a protective outer coat. Astbury researchers have uncovered new information about how these defences are formed, opening the door to a new target for the search for novel antibacterial agents.

Investigating amyloid diseases: Diseases such as Parkinson's, Alzheimer's and type 2 diabetes are characterised by proteins sticking together in clusters known as amyloid. The Astbury Centre team is developing new ways to find chemicals capable of stopping this clustering process.

Curing common cold: Astbury Centre research is at the heart of the mission to crack the hidden code of viruses, including the common cold. We are collaborating with researchers in York and Helsinki to identify new mechanisms for novel antiviral drugs.

Developing new drug targets: A new approach has been developed to combat diseases caused by herpes virus infections – from cold sores to cancer. Astbury Centre researchers have discovered compounds which can prevent the virus from replicating. They are now building on this work to discover new antiviral drug candidates.
Our work in practice

The Astbury Centre is committed to developing solutions that are relevant to the pharmaceutical and biotechnology sectors. We work in partnership with over 30 companies, ranging from small and medium-sized enterprises to multi-national pharmaceutical companies.
Facts and figures
Over 65 academic staff and 400 researchers are linked to the Astbury Centre.
Our research grants for the 2016/17 academic year amounted to £95 million.
Key people
Professor Sheena Radford
Director of the Astbury Centre, Professor of Biophysics

Professor Adam Nelson
Deputy Director of the Astbury Centre, Professor of Chemical Biology

Professor Neil Ranson
Deputy Director of the Astbury Centre, Professor of Structural Molecular Biology

If you would like to work, partner or collaborate with us, or want to know more about the research we are involved with, email astbury@leeds.ac.uk.